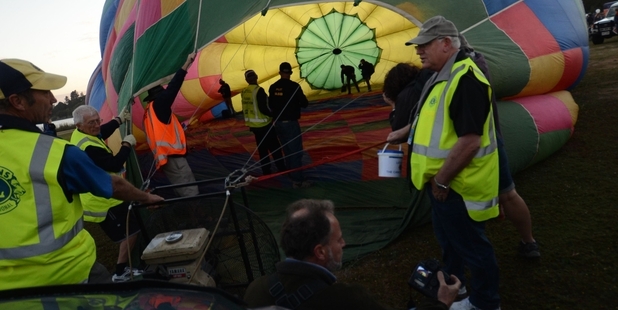 Balloons over Waikato launched on Wednesday. And while the morning was perfectly clear, windy conditions meant the balloons had to remain grounded on the first day of the annual festival.
Remaining highlights of the festival include:
The Hamilton Central Business Association City Burn is on tonight in Garden Place from 6-8pm.
The night will include food and entertainment and a spectacular basket burn to music at 8pm. Get a sneak peek at Enigma, one of the bands playing at the Nightglow. An established covers band, Enigma will be playing from 6-8pm and will be sure to provide wonderful music to listen and dance to at the City Burn.
Also keep an eye on the skies as the special shape balloons will be inflating from Innes Common and flying.
The Smartrak Cash Grab competition is on tomorrow morning at Innes Common at 7.30am.
The Cash Grab competition, a major feature of the event, sees balloonists attempt to remove $1000 from the top of a pole at Innes Common, Hamilton Lake. The first attempts are expected about 7.30am.
The ASB Nightglow at Waikato University is on tomorrow evening from 4-9pm.
The highlight of the festival for spectators, the Nightglow features live music, orchestrated Balloon Glow Show and a dramatic fireworks finale. See busit.co.nz for details about a free park and ride bus service to and from the festival.
The Lion Foundation Finale is on Sunday from about 7.30am.
Balloons will start their inflation at Innes Common. Frankton Market stallholders will be onsite selling their goods.