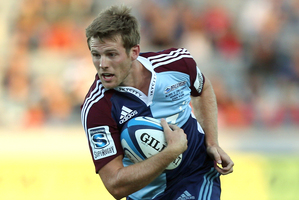 Noakes was the fixer; unhurried, comfortable and almost immaculate in the way he ran his playbook.
There must be something about Eden Park that flicks a switch in first-fives condemned as journeymen.
The legend of Stephen Donald was made in Auckland, and last night, Chris Noakes, whose arrival at the Blues was greeted with universal disbelief, surely took a giant step towards winning at least the hearts, if not the minds, of those who had all but written him off. The caterpillar ripped open its cocoon and an unexpectedly beautiful butterfly emerged.
Quality performances were everywhere for the Blues: Charlie Faumuina didn't stop running; Peter Sailii took the gainline; Piri Weepu directed like he was born to do just that job and Rene Ranger probed and pushed, found space where there really didn't appear to be any.
There wasn't a dud, and yet the whole thing wouldn't have come to much - the endeavour would have gone unrewarded - had it not been for the composure and accuracy of Noakes.
He was the fixer; unhurried, comfortable and almost immaculate in the way he ran through his play-book.
The best first-fives know not to overplay their hand. If they make the performance appear to be all about those around them then they have done their job. That was Noakes - the ball was mostly in and out of his hands without fuss and those outside them relished the time and space.
There were a couple of show-and-goes by Noakes, little dabs that sent a flutter of panic through the Crusaders' defensive line, and then, of course, there was his cameo moment: the expertly judged chip kick that allowed Frank Halai to climb above Israel Dagg and claim a spectacular try.
Anyone tempted to persevere with the notion of Noakes the journeyman needs to consider the deftness and vision that one kick took. That was the work of an artisan - only a genuine craftsman could execute such a play, and frankly it would have been beyond the imagination of more than half the first-fives in Super Rugby.
The Blues haven't necessarily stumbled upon gold as such. What they have found is a player who is gold in the sense that he fits their needs, can enforce their vision.
For an interminably long time there hasn't been a No10 at the franchise able to fulfil that modest goal. Jimmy Gopperth, Tasesa Lavea, Isa Nacewa, Stephen Brett, Gareth Anscombe, Luke McAlister and Michael Hobbs, all had a peculiar knack of writing their own scripts; they all felt the need to ad lib the game plan, change it as they saw fit.
Not Noakes - in his 65 minutes he never forgot the game was bigger than him, that it wasn't all about him. He stuck to what he was told, believed in his coaches and kept his evening's work to pass, run, kick. He brought the performance together, kept his side going forward, put them in the right places. Put the ball in the runners' hands. He made it look easy. He made the performance look to be all about those around him. Job done.