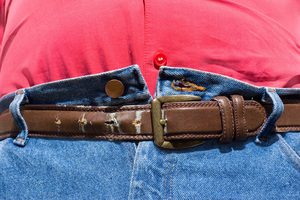 Health & beauty: The latest report from the Ministry of Health published online yesterday shows that more than one million adults (28 per cent) are obese.
The report highlights that, if these trends continue, obesity will become the leading risk factor for disease, replacing tobacco use, by 2016. Rates of obesity are increasing both in adults and children which suggests that we will be seeing a higher prevalence of diseases like diabetes in the future.
It goes on to suggest that adults that are physically active (defined as doing a minimum of 30 minutes exercise at least five days per week) will be less likely to suffer from heart disease, some forms of cancer, depression, type-2 diabetes and osteoarthritis. Osteoarthritis is a type of arthritis causing the breakdown of cartilage in joints and is characterised by stiffness, swelling and pain. About 60 per cent of osteoarthritis-related health issues are caused by obesity.
How to stay healthy
Get active!
In 2011/2012 only 54 per cent of adults over the age of 15 exercised a minimum of five times per week.
Exercising helps lower your risks for a whole host of diseases and makes you feel fit and healthy. Try getting off your bus a few stops earlier, parking further away from work, forming a 'Weekday walk' group at work and getting active in your lunchtime, taking the family for a walk along the beach or heading to the park for a fun game of touch rugby in the sunshine.
Reduce cancer:
Factors that could enhance your risk factors for cancer include: diet, alcohol and tobacco consumption, obesity and lack of physical activity.
Reduce your risk of heart disease:
Risk factors for cardiovascular disease include high blood pressure and cholesterol, obesity, lack of physical activity, unhealthy diets, excessive alcohol consumption and use of tobacco.
Sort out your diet:
The three main dietary factors affecting our health and obesity levels are:
High salt intake
Pouring salt on your food can cause high blood pressure (leading to strokes and heart disease). It's hidden in lots of processed foods, so be sure to check sodium levels on high-salt food items such as sauces, cereals, bread, takeaways and processed meats.
A high intake of saturated fats
Animals products (cream, milk, butter, meat) and some plant-based products (coconut and palm oils that are used in a lot of baking) are sources of saturated fats. These types of fats are solid at room temperature and raise 'bad' cholesterol levels in the body, increasing the risk of heart disease. The Ministry recommends that no more than 10 per cent of total energy intake comes from these types of fats.
Low levels of fruit and veggie consumption
We still don't eat enough greens! Fruit and vegetables are jam-packed full of goodies including vitamins, minerals, dietary fibre and anti-oxidants. Eating fruit and veggies helps lower blood pressure and reduce the risk of disease like heart disease, strokes and cancer. Don't forget your five plus a day - the Ministry of Health recommends a minimum of three servings of vegetables and two of fruit.
Source: Ministry of Health.