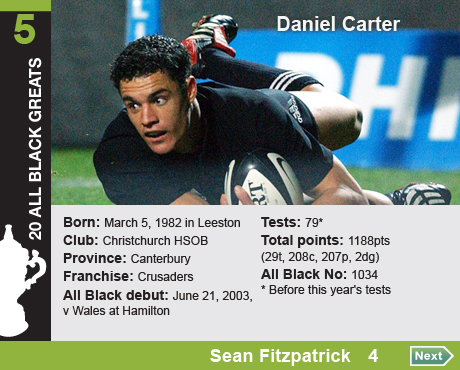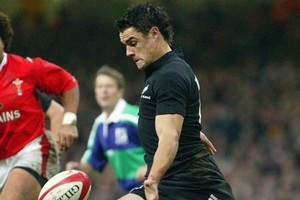 Practice in a gherkin field set him up, writes Dylan Cleaver.
Read it one of two ways: Dan Carter's omission from the 2004 Rugby Almanack's list of five promising players was either an embarrassing oversight for the august publication, or evidence that the Cantabrian's ascension was so rapid there was no time for him to be "promising".
If anything, another young Cantabrian, Cam McIntyre, was touted as having a long future in the black No 10 jersey, particularly when Carter's initial foray into first-class and test rugby were as Aaron Mauger's understudy at second five-eighth.
"I was just going with the flow. I didn't really know where I was going to play, where I was going to end up," Carter said of his positional swap.
Pick your top 20 greatest All Blacks of all time.
"I'm really thankful for the way it turned out, getting that opportunity to play a lot of rugby at No 12.
"It's not easy playing first five at Super rugby and NPC level. It's quite a demanding position for a young player. It really worked in my favour getting experience ... off the old masters in Andrew Mehrtens and Carlos Spencer.
"When my time came to pull on the 10 jersey, I'd had some experience at the highest level."
Funny how the wheel of fortune turns. McIntyre has carved himself out a nice little career at French club Castres, while Carter recently inked a deal, reportedly worth $6 million, that will keep him in New Zealand rugby until the end of 2015. It should see him overtake nearly every rugby record.
"It's not a given to play for the All Blacks and there's a lot of young talent coming through in the next couple of years," Carter said. "They'll be in their prime so that's a challenge I'm looking forward to."
Perhaps.
Carter is peerless in the No 10 jersey, has been for the past six years and will remain so for the foreseeable future.
Not bad for a kid from tiny Southbridge who dreamed of being John Kirwan until he stopped growing at 6 and didn't start again until he was 12.
"One of my earliest memories was the 1987 World Cup," Carter recalled. "I was only 5 and remember John Kirwan scoring that length-of-the-field try and scoring a try in the final.
"I'd always be out in the back yard pretending I was JK."
That he had a back yard at all was a remarkable piece of foresight on the part of Mr and Mrs Carter. It was a gherkin field, but sick of repairing broken windows as they watched their son use a gap in the roof as makeshift goalposts, the Carters ripped out the gherkins, laid some grass and erected a proper set.
"The beauty of living in a small community is that all your mates are not far away. We lived on a block and I had seven or eight mates that used to come around to my house - because we had the posts - almost every day after school.
"We'd play games of rugby, league and having kicking competitions, everything. I still get along with a few ... we keep in contact so it's pretty cool."
By then the diminutive Carter had abandoned JK and turned to Graeme Bachop. "I tried to perfect my pass like his, because he had an awesome pass."
After making the South Island secondary schools team out of Ellesmere College, Carter decided Christchurch Boys' High was where he needed to be to take his rugby further.
He made South Island schools again but suffered one of his few selection setbacks, spending more time than he would have liked on the bench as one Brendon McCullum directed traffic at No 10.
"That year, 2000, he was playing some awesome footy, so I spent a fair bit of time on the bench. He was a natural sportsman, good hand eye."
It was a minor blip.
The New Zealand Colts followed, as did selection in the Canterbury NPC squad.
"It was actually quite intimidating being in that Canterbury environment. There were so many All Blacks, guys I looked up to at high school, like Justin Marshall, Andrew Mehrtens and Reuben Thorne. Suddenly I was sitting alongside them in the changing rooms. I found it pretty daunting, to be honest, but I picked up a thing or two."
Or three. Within a couple of years he was recognised as the best No 10 of his generation and was nudging his way into "Best of All Time" discussions.
He might not be the dynamic attacking force he was in his 2005-06 pomp, where he could shred defences at will with his running game, but he is a more astute tactician and an ultra-consistent goalkicker.
"The more you play, the more experience you gather about the different situations you get put in. You learn to adapt to those situations quicker.
"I've played a lot of rugby now so I'm pretty comfortable in pressure scenarios ... I pride myself on my all-round game and having that experience helps. I feel I'm in a good place and playing some good footy."
The best illustration of Carter's influence can be seen when he is not there. The All Blacks struggled in'09 when he was recovering from a snapped Achilles suffered while playing for Perpignan in the Top 14.
Last year in Hong Kong the All Blacks went from a sure-thing in their final Bledisloe Cup test of the year to disappointed losers.
Most gallingly, the All Blacks suffered in the World Cup quarter-final against France four years ago in Cardiff when an ankle injury first rendered Carter ineffective, then finally forced him from the field.
"To be injured and sitting in the stands, I just felt so helpless.
"You could feel it going down the drain and with nothing you could do about it, it was just about the toughest place to be."
It is the only gap on Carter's CV. While he has shone brighter perhaps than any other rugby star in the past two World Cup cycles, the tournaments themselves have not been that kind.
He was used as a late substitute for Mauger in the 2003 quarter-final against South Africa and not at all in the semifinal loss to Australia. Four years later he played just 195 minutes before the All Blacks were knocked out as he battled the coaches' rotation policy and a troublesome ankle.
Without a credible back-up No 10, New Zealand needs 2011 to be the year Carter rights his World Cup wrongs and confirms that the shekels being paid into his account over the next four years are a bargain.
Carter's greatest hits
1 v Lions, Wellington, 2005 - The apex of first five-eighth play. Carter was so good it was mesmerising. He scored two tries, one a sideline-hugging chip-and-chase, nailed four out of five conversions and landed five penalties in a 48-18 win.
2 v South Africa, Wellington, 2006 - A year after his Lions triumph, Carter produced another Westpac Stadium classic, scoring 25 points and running the All Black cutter faultlessly in the 35-17 win.
3 v Australia, Brisbane, 2008 - One try and four superb conversions were Carter's contributions in this enthralling 28-24 win to the All Blacks. Australia were as good as they had been for a long time and it is no exaggeration to say the All Blacks would have finished a distant second were it not for Richie McCaw and, in particular, Carter.
4 v England, London, 2006 - Young England midfielder Anthony Allen was making his debut and Carter ensured it was a miserable one, fending him off to score from 35m out in this 41-20 rout. Carter had an exceptional match, scoring 26 points.
5 v Australia, Sydney, 2009 - for sheer bloody-mindedness, this comeback from his serious Achilles injury makes the list. The All Blacks had been in a terrible funk, losing twice in South Africa and were favourites to go down in Sydney too, but a Carter penalty, his fifth success from six attempts, with two minutes remaining sealed the 19-18 win.
Pick your top 20 greatest All Blacks of all time.
Next Monday nzherald.co.nz will compare our experts' list with the public's.