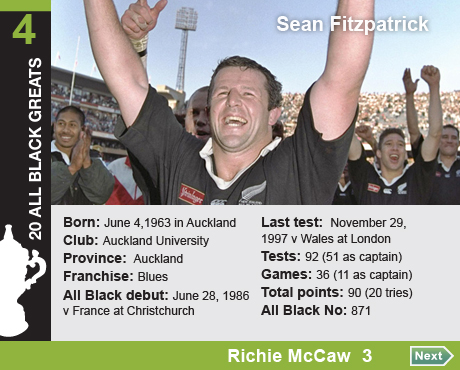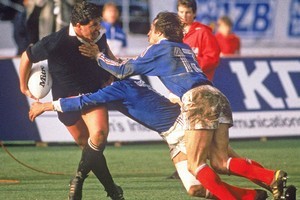 From high of first jersey to relief of finally leaving, Wynne Gray chats to the great hooker.
Sean Fitzpatrick's proudest All Black moment came in late June, 1986 at Lancaster Park.
He chased the kick-off as his mind lit up with a range of emotions about joining the most famous rugby club on the globe.
"I guess my first touch came with a lineout throw and I think Kevin Boroevoch, Brian McGrattan and myself got dealt to in most scrums.
Pick your top 20 greatest All Blacks of all time.
"But I was an All Black. I had joined the special club with its extraordinary history, a select club with a superb winning percentage," he said.
"Being an All Black is all about continuing the legacy of being the best sports team on the planet."
When Fitzpatrick signed off 11 years later after 92 internationals, he had put a massive tick next to his part in the legacy.
The flint-hard hooker never envied any rival although he admired foes like Phil Kearns, Uli Schmidt and Tommy Lawton.
Fitzpatrick remembers sitting next to Andy Haden in the changing room when the lock biffed his boots off, saying he could retire happy.
"It was a great moment, a great example," he said.
"I could have retired after the '95 World Cup, that would have worked as it was all becoming a bit much and I would have left on my own terms.
"In the end I had no choice and that was a blessing too. I'd had another couple of decent seasons but when I stopped, it was like a weight off my shoulders.
"How do you get out? You have to ask people like George Gregan, Jason Leonard, Jonny Wilkinson, David Campese or Ricky Ponting. There is no set method, everything is different."
One of his favourite tests came after the All Blacks collected the inaugural World Cup. They had been dominant throughout that tournament but had not played the Wallabies.
Five weeks later that chance came in Sydney, the All Blacks were convincing winners and Fitzpatrick scored two tries.
"Every test from about '87 to '89 was great - I'll always remember those games - '92 to '94 was a challenge when I played some of my best rugby though I had not been entirely comfortable with being captain at the start.
"The '93 series against the Lions ended well at Eden Park coming after my worst test the week before in Wellington. There was a lot of pressure.
"The whole series in '96 in South Africa stands out. It was all about trying to win a series for the first time in that country, retribution for the year before, the start of a great few years under John Hart - a brave new world really. It had everything."
Fitzpatrick scored 12 test tries but rated his dot down from close range in the deciding test against the Lions in'93 as the most significant of his career. The heat was on and Fitzpatrick's try gave the All Blacks a slender lead which they were able to consolidate.
Fitzpatrick aimed to emulate and add to Tommy Lawton's repertoire.
"He taught me lessons in the power of scrummaging, he was mentally tough, great on the verbal messages, he had attitude and was extremely tough. He had that killer instinct which is so necessary."
Another Wallaby, Nick Farr-Jones was the best player in his position and a leader to admire. He galvanised his side and inspired them while Phillipe St Andre was another skipper who caught Fitzpatrick's respect.
World Cup prediction
Like many former All Blacks, Fitzpatrick is nervous in settling on them to win this year's cup.
"But the Six Nations this year has not been a great competition and four years on from the last World Cup, the All Blacks have done remarkably well. "England have an outside chance and could beat the Wallabies and France while I am wary of the Boks because of their history.
"A few of them look a little jaded, they do have amazing experience but the All Blacks have had the wood on them lately."