Tem Morrison takes leaf out of Kardashian book for new series.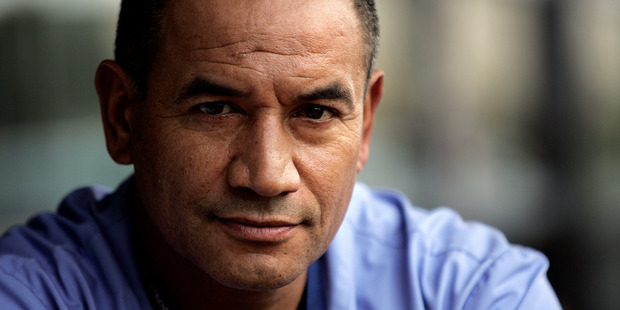 Temuera Morrison is planning a television comeback with his own reality show on TV One.
The former Shortland Street actor, who has starred in Hollywood movies such as Green Lantern, Scorpion King 3 and Star Wars: Attack of the Clones, will star in The Life and Times of Temuera Morrison, from the makers of The GC.
The television series is being produced by Bailey Mackey from Black Inc Media, part of Eyeworks NZ. Managing director Ashley Coupland, who's been in the job since Monday, told The Diary that NZ on Air signed off on the project last month.
The series, comprising eight 30-minute episodes, has received nearly $425,000 in public funding from Rautaki Maori.
NZ On Air describes it as a look at "one of Maori's favourite sons as he re-evaluates his acting career, engages in competitive kapa haka and reveals his evolving relationships with whanau".
TVNZ executive Andrew Shaw said the network was "looking forward to showing New Zealand more of Tem".
The star told Radio New Zealand this week he's keen to add another string to his bow and follow the reality TV craze.
"I'm sort of taking a leaf out of Keeping Up With The Kardashians and The Ridges. I said, well, I'm going to do a show called Keeping Up With the Morrisons, and someone has liked that idea."
Morrison, who has a feature film coming out next month with Stan Walker called Mt Zion, said compared to movie-making, reality television was inexpensive and straightforward to produce.
"TV is cheap. You just grab two video cameras and we run around. The days of the English drama and all that are gone now. It's too expensive, you know. Hiring all the crew, getting all the sets made, getting all the vehicles, hiring all the writers and actors. It's too expensive. It's all reality TV for the moment."
Morrison admits the Hollywood movie business has slowed down for him. "To be quite honest, I'm not in that position where there is a pile of scripts, where I'll go, yes, I'll tackle this project now. Sometimes there's a pile of Sunday papers on the table instead of scripts."
He says he's all too aware of the fickleness of Hollywood. "You're flavour of the month and you have your turn, and then you have to try and sustain it, otherwise the next Once Were Warriors comes out the following week and it's their turn."
Aussies, he reckons, are de rigueur in Hollywood these days. "The exotic Maori from New Zealand seems to be wavering a bit," he said.
Evidently not, however, when it comes to our local telly shows.

Kylie puts piece of Hellenic heaven on market
Fancy a three-bedroom pad near the Acropolis overlooking the Aegean? Got a spare €1.3 million ($2 million)? Former Kiwi supermodel Kylie Bax Poros and her Greek husband Spiros Poros are selling their Greek pile on Filoppapou Hill. Last year they put their New York loft on the market. Bax's property portfolio also includes homes in Los Angeles and Sydney.
"Greece is the most magical place on Earth," the mother of three said. "The house is extremely private and very secure, located on a quiet street but in the middle of a trendy Athenian neigh-bourhood with all the energy of the Greek gods."
Sotheby's is selling the 420sq m digs, which have an indoor-outdoor pool, a wine cellar and a traditional hammam (Turkish bath).

Arrowtown first to see Redford doco on dyslexia
Documentary-maker James Redford, 50, son of Hollywood scion Robert Redford, premiered his movie The Big Picture: Rethinking Dyslexia at Arrowtown cinema Dorothy Brown's on Saturday night. Redford jnr, who flew back to San Francisco this week, is a regular to our shores.
He enjoyed a Kiwi Christmas here with wife Kyle and their two children.
His mother, Lola Van Wagenen, and stepfather, Dr George Burill (New Zealand honorary consul to the United States, based in Vermont), have a house in Northland.
They hobnobbed with New Zealand's ambassador to Washington, Mike Moore, who took to Twitter this week to endorse his pal. "Jamie is a good bloke and spent New Year's with us," Moore divulged.
Redford's doco, featuring his son Dylan and other dyslexia sufferers including Sir Richard Branson and financier Charles Schwab, first screened at his father's Sundance Film Festival last year and then on US cable network HBO.
"In terms of showing this film in New Zealand, that's a happy case of stars aligning with my being here and the Dyslexia Foundation taking up the baton to make this happen," Redford told the Otago Daily Times. The foundation picked Arrowtown for the premiere because Central Otago schools are leading the way for children with learning difficulties.

Hobbit profits a big deal
The movie may have been snubbed in the Bafta nominations, but The Hobbit grossed US$826.6 million ($985.8 million) worldwide in its first three weeks, which means millions of dollars of profits to be split in very complicated ways, said the Hollywood Reporter this week.
Who's in to win? The film studios, Warner Bros. (the parent of New Line Cinema) and MGM; the film-maker, Sir Peter Jackson; the J.R.R. Tolkien estate.
And, of course, the producers, Saul Zaentz and the Weinstein brothers, Bob and Harvey, who negotiated a lucrative deal years ago when they controlled LOTR while running Miramax Films (now owned by a consortium).
Jackson's deal is "enormously complicated", says the magazine, and involves "escalators", meaning the more the movie earns, the larger the share of the profits he'll take.
He renegotiated his deal when Guillermo del Toro dropped out as director of The Hobbit two years ago. A third instalment was added to the franchise, meaning more bucks for Jackson et al.
However, insiders predict a legal stoush may be brewing from the Weinstein brothers.
Sources close to all the various deal-makers involved with the trilogy told the mag: "It's one of the most complicated arrangements in Hollywood history ... but in success, it's great for everyone."

•Greenpeace is hosting drinks and canapes on board the Rainbow Warrior III tonight, docked at Princes Wharf. The Diary will be rubbing shoulders with some salubrious Kiwi innovators and entrepreneurs. Aucklanders will get the chance to see the boat up close with public tours available tomorrow and Sunday.