Basketballer Tai Webster takes Young Sportsman of the Year accolade.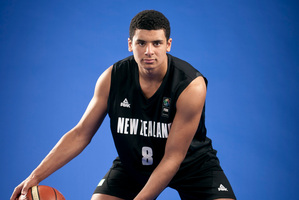 It was very much a case of the long and the short of it as the winners of the ASB Young Sportsman and Woman of the year were named at the College Sports awards dinner.
For the second year in a row, the world's best amateur golfer Lydia Ko, from Pinehurst School, took the women's honour. She was joined in the winner's circle by international rising basketball star Tai Webster from Westlake BHS.
Ko follows former national swimming representative Scott Talbot (Rosmini College) in a double scoop of the award. Talbot won his awards in 1998 and 1999. Given her standing, and undoubted talent, Ko must be a strong fancy to complete the trifecta next year.
Webster's win comes two years after Robert Loe, another Westlake Boys basketballer, took the award. Webster led Westlake to victory in the Auckland SS premier championship and the national SS title in a year which also saw him debut for the Tall Blacks at the FIBA Olympic qualifying tournament.
At 17, he's the youngest to debut at that level.
Not content with simply making up the numbers, Webster led all scorers with 21 points in New Zealand's 68-64 win over Angola. His future appears assured after being awarded a scholarship with Lincoln University, Nebraska, where he will play in their division one basketball team, the Nebraska Cornhuskers.
It was a stellar year for Ko who was named as one of the New Zealand Herald's rising stars in January. Playing as an amateur, she won the Canadian Open on the US LPGA tour and also collected the Women's NSW Open as, at 14 years, their youngest-ever winner.
Ko was also the leading amateur at the US Open, won the US Women's Amateur Championship and comfortably retained her ranking for the second year as the world's leading amateur. At the Espirito Santo World Amateur team's championship, she shot an amazing 14-under to claim individual honours by six shots.
A number of other sports stars such as athlete Siositina Hakeai (AGGS), rower Michael Brake (WBHS) and swimmer Tabitha Baumann (Rangitoto) who featured in College Sport during the year were named winners in their sports.