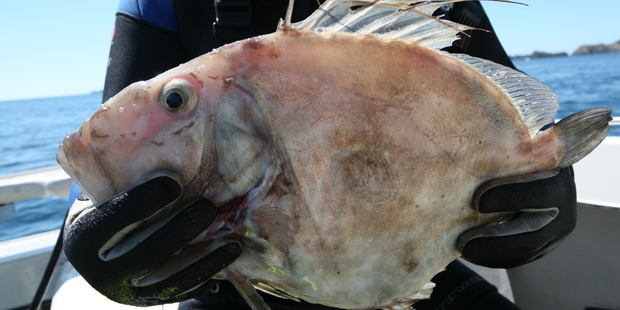 The best way to gather a meal of seafood in mid-summer is to go out with a diver. Fishing can often be unrewarding at this time, but the crayfish, scallops and fish are still there and the diver ventures into their domain.
This was our own experience over New Year, and it involved visiting a mate on the Coromandel Peninsula. The diver in question shall remain anonymous for privacy reasons, but he can be referred to as PT.
Now this particular diver has a lot of grey hair, which means he has been doing it for a long time and he knows the sub-aqua terrain very well. As in fishing, local knowledge is paramount when it comes to locating the quarry and separating the various delicacies from their environment.
PT is regarded as a bit of a guru in his locality and is always ready to offer a helping hand or a bit of advice to anybody who stops by. He is also regarded as a sort of machine under the water, where he extracts twice as much time from his scuba bottle than newcomers to the pastime who gulp down their air.
He knows where the crayfish will be hiding, and he knows how to drift up to them with his shoulder bunched and gloved hand ready to dart out and grab the cray under its body before it has time to realise it is in trouble.
PT always dives with his long spear tipped with a bunch of lethal spikes.
It is called a Hawaiian sling, and he prefers it to the more cumbersome speargun which is more commonly used under the surface.
It takes considerable strength in the arm to stretch the two thick rubbers that deliver the power, hold the tension and let fly at an unsuspecting fish.
John dory are the main target, as they are so common, and our underwater hunter knows how to sneak up on them.
Well, not actually on them, more over them, for he drifts along well above the seabed, peering down as he watches for the brown shadow that indicates a dory. These fish are masters of disguise and look much like a frond of brown weed undulating in the current which is how they, in turn, ambush their prey - small fish.
PT will tell you that if you approach the johnnies head-on they will see you and flit away. But they do not look up, and so he hunts them from above, drifting down to within striking range, which is almost touching range with the deadly sling.
The dory join crays in the catch bag, and it is not unusual for PT to surface from a 30-minute dive with a limit of six crays and several johnnies in the bag. The other highly prized quarry is the strange-looking boarfish. These white-fleshed fish make fine dining, but because they exist solely on long worms which they probe out of the sand with the pig-like snouts, they are not caught on a rod and bait. They are usually in pairs and PT relishes the chance of sneaking up on a pair, holding his breath so no bubbles give away his presence, and nailing a 10-kilo boar is a highlight indeed.
Then there are the scallops. Now scollies have killed more people than any other fish in the ocean. And it is simple. When a diver gets into trouble and panics, it is usually through lack of experience and it is usually when diving for scollies, as this is the most common practice for divers around our coast. Over the years PT has searched for, and found, several divers who drowned while diving for scollies.
They invariably have a heavy bag of scallops attached to their waist, or clutched in a gloved hand. They refused to let go of their catch.
There is a solution which removes part of the risk. A "dive buddy" is a float with a thin rope wrapped around it with the loose end attached to the diver's belt. As the diver descends the float spins and the rope unravels. This has two benefits: the float points to the diver's location, and a heavy bag of scollies can be connected to the rope and left on the seabed when the diver surfaces, then easily pulled into the boat.
Scuba diving and free-diving - where divers hold their breath - are becoming more and more popular, and dive courses operated by the retailers of the gear introduce newcomers to the sport in a safe and regulated manner.