Grab a spade and transform your lawn into a vege patch, writes Meg Liptrot.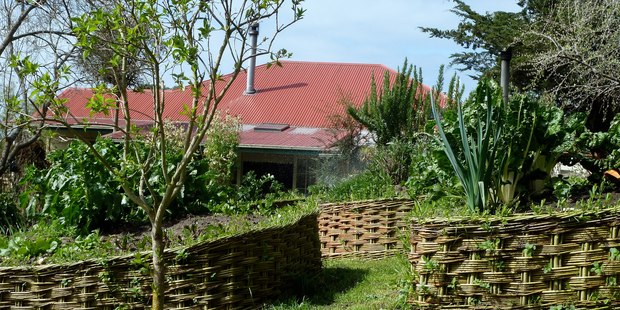 On my way to work each morning, I travel past many houses with huge front yards covered in lawn and not much else. Many of these are north-facing, prime growing spots, which I would give my eye teeth for. At the same time on the news we hear never-ending stories of the price of fruit and veges going up, families struggling to put groceries on the table and kids going to school with no food in their tummies.
If I was a political person and keen to have my face on billboards, this spring I'd stand up and shout, "Get growing! Dig for victory!" Being busy in your front garden is a way to connect with the people on your street. It is community building and healthy in more ways than one.
Gardening can be a wonderful social activity, and so much can be learned from the experiences of other gardeners. A participant at one of our environment centre's edible gardening workshops who had recently immigrated to New Zealand from Malaysia said she couldn't believe how much vacant land we had in the suburbs where there is so much food-growing potential - often there is a lawn and a solitary tree or shrubs and not much else.
She noted that in Malaysia this space would be maximised for productive edible gardening.
Everyone at the workshop exhibited different levels of gardening knowledge.
This is where gardening at a more communal level has its pluses. Some workshop participants needed help getting started, others needed tips on dealing with adverse growing conditions. Getting tips from neighbours who have similar soil conditions, or who can easily peer over the fence and help identify a bug or show you how to tie up and de-lateral tomatoes, is worth encouraging. Then, come harvest time, you can share and compare produce.
I love going for walks in new places and discovering creative types growing food in their front yards. It gives me a thrill and I can't help but pause and admire the effort. One such house in inner Nelson caught my fancy a few years back - a cute colourful cottage with sunflowers, sweetpeas and veges to match.
Even students can get in on the action.
Adam Guyton, the son of environmental champions Robyn and Robert Guyton of Riverton, grew veges and grains at the front of his flat when he was at Otago University. More recently Bart Acres (love the name) has grown food at his Otago flat, and subsequently went on to found Otepoti Urban Organics - a network of gardeners, community groups and businesses keen on organic food growing in Dunedin. These flats were a nice change from the usual student hangout with beer cans and who knows what in the front yard, and a more thought-provoking - even radical - statement, too.
Unbelievably, in some parts of the US, it is illegal to grow food in your front yard. Some food-growing enthusiasts have been slapped with large fines for breaking the pristine manicured landscaping code of their town. We're lucky to have the freedom here to grow our own food, in flats and in front yards and wherever else takes our fancy.
I hope I've motivated you to pick up a spade and dedicate a piece of unused lawn into a vege plot, unleashing the potential of your patch.
Edible Garden Makeover
1. Choose the right spot. Most veges like a position in full sun.
2. Don't bite off more than you can chew - start small at first and keep it manageable.
3. Pool your resources. Find like-minded neighbours and share tools, or team up and go shares on purchases, and seedlings if you've raised too many.
4. Use barrels to collect rainwater from your roof. Make use of household food scraps by composting, wormfarming or bokashi, which can be added to the soil to increase fertility.
5. Team up with knowledgeable neighbours. Retirees may have more time on their hands and a trick or two up their sleeves to get you and your family started.
6. Start your vege plot by using your own topsoil. Skim the grass and turn upside down to rot down and get your garden started. Dig out paths around the plot and turn in to the centre bed. Cover with a thick layer of compost to block out light and stop the grass regrowing. If your site has been in lawn for a long time, the topsoil underneath will be good quality, even if it is clay deep down. If you are the "weed 'n' feed" type and have used sprays to get rid of broad leaf grass weeds, this will likely still be in your soil and affect the growth of your veges. In this case you may need to purchase additional topsoil or garden mix to get started, or perhaps build raised gardens with untreated macrocarpa sides.
7. Use shredded tree mulch, which can be purchased by the truckload from arborist companies, to fill in your paths. In a few years' time this mulch will have broken down sufficiently to be used on the vege bed. This will improve soil structure and increase carbon content, which is important when harvesting crops regularly from the garden. A light sprinkling of spray-free grass clippings is also good for the soil.
8. Don't be afraid to mix it up - flowers and herbs are great companions to veges. Diversity in your garden helps reduce pests and disease and it looks great, too.
9. Have fun with colours and shapes - purple cabbages look great teamed up with flowering companions such as calendula, alyssum and chrysanthemum "white snow", which also attract beneficial insects.
10. Grow a mix of perennials and annuals, so your garden won't be bare after harvest. Ornamental edibles such as globe artichoke, kale "Palm Tree Di Toscana" and woody herbs such as rosemary look good and last many seasons.
• Next week: Part two - Front-yard fruit