Hot weather hasn't been kind to fruit trees, writes Meg Liptrot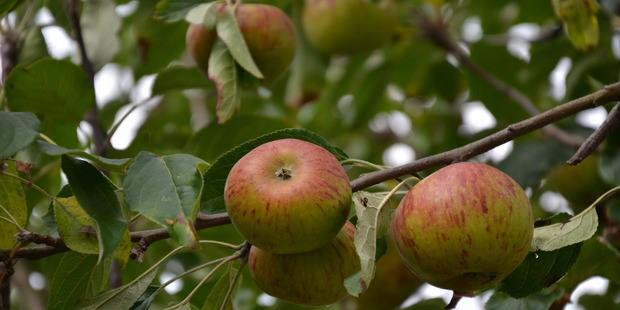 Apples are in season now and juicy crisp ones are available in the shops. Growers generally irrigate their trees so their apples can be almost twice the size of homegrown ones.
The trees in our community garden have produced smaller than usual fruit apples this year because of heat stress and some fruit have been vigorously pecked by birds desperate for food, or have annoying telltale signs of codling moth.
It's a bit late, but I'm picking the smaller ones from clusters to give the others more chance of getting to a reasonable size, and reducing the ability for apples to touch and transfer or harbour pests. Our trees are well mulched several times a year when the soil is moist, but there's not much point in mulching too deeply when the soil is super-dry, as it will be hard for occasional showers to penetrate the soil.
Our pollinator apple tree variety Jonathan is a heavy cropper, and this year he's been under attack. A water-stressed tree is an invitation for pests and birds and his small apples are strewn on the ground. There are a few salvageable ones good for juicing or cooking, but the rot gets them quickly in this weather.
To prevent the next life cycle of codling moth, regularly check apples on the tree for tell-tale frass-filled holes (larvae droppings) and pick the apples. Remove fallen rotten apples frequently and throw them in a hot compost or worm bin. They will provide good sustenance for the hungry worms so the nutrients won't be wasted.
We have a seedling apple which appeared in our food forest, and out of curiosity we let it grow. What a good punt that was. The tree is vigorous, has no disease, and the apples are pest-free and deliciously sweet. It appears to have Gala or Braeburn qualities and it's likely a visitor threw a core into the garden several years ago.
As it's a seedling apple, it will grow tall, as it hasn't been grafted on to rootstock to restrict its size. Harvesting will be a challenge and we'll have to take our chances to compete with birds to get the fallen fruit.
Teina, one of our community gardeners, visits her brother in South Auckland where she planted a Gala apple tree 20 years ago. The soil is great quality out that way and she brought back a bag full of apples to share. They are perfect - juicy, crunchy, classic eating apples, and look shop-bought (the proof they're homegrown is they have leaves and twigs still attached.
She said the tree is low, broad and covered with fruit, and they don't fuss, add fertiliser or do anything with it.
It makes sense to find out which varieties do well in your locale. Keep an eye out for good-looking trees near your place and chat to the owner.
The Tree Crops Association has regional divisions and holds monthly meetings and field trips. The meetings are great value and you will have the opportunity to taste a selection of fruit that members have brought in. That way you can find out what you like best and how to grow it.
Check out treecrops.org.nz

Buy and care
• Autumn is a good time to peruse fruit tree catalogues and put your order in to avoid the winter rush on bare-rooted trees. If you have space, choose a good eating apple, and perhaps a late-season apple for their good keeping qualities. Mara Whenua (Tasty Trees) in Kaitaia has an impressive selection of 60 heritage apples, categorised into early-, mid- and late-season, which include 12 varieties used traditionally for cider making.
• Kelmarna Organic City Farm has camomile and comfrey planted around its apple trees. Other good companions include borage, tansy, yarrow and cow parsley. These plants attract bees for pollination, or miniature predator or parasitic wasps to help with pest control. Check out the 'Orchard Herbal Ley' seed from Kaiwaka Organics, which includes clover, parsnip, phacelia and borage.
In the kitchen
Breakfast: Blend a fresh juice of apple, celery and mint.
Lunch/dinner: Make a coleslaw by grating the good bits of apple into your salad bowl with shredded cabbage, grated carrot and finely chopped onion. Toss in a shaken dressing of cider vinegar, olive oil, water and a little sugar.
Dessert: Classic baked apples. Throw a few apples on some baking paper on a rack next time you're grilling chops. Core the insides first, and stuff with raisins, drizzle a little vanilla essence on too, and pop a knob of butter on the top. Bake until soft and squishy. Serve hot with Greek yoghurt and some chopped nuts.