If you've thought about planting fruit trees, now is the time to do it, says Meg Liptrot.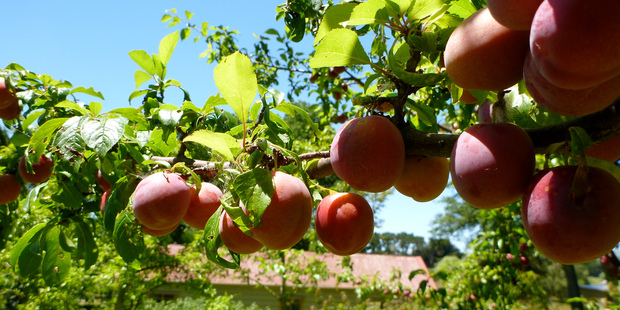 There's nothing better than picking sun-warmed fruit from a tree in your backyard. Micro-orchards are popping up in parks, schools and in street plantings, so you may get to sample tasty fare from these communal sites. If you are considering planting a fruit tree or two, now is the time to do it. Deciduous fruit trees such as pip and stone fruit are dormant in winter, so planting them now gives them time to settle in before spring weather triggers leaf and blossom buds to unfurl.
Tree Crops Association member and heritage fruit tree expert Derek Craig highlighted an observation by urban tree croppers: fruit trees which have always been good croppers are producing much lower yields than in past years. The reason for this is a combination of the effect the varroa mite has had on bee populations, essential for pollination and fruiting of trees, and the trend for infill housing. Large quarter-acre sections are regularly being subdivided and mature fruit trees are being lost. This has an impact on the ability of the often single fruit tree specimens in neighbouring backyards to be pollinated.
Many fruit trees will self-pollinate but the quantity of fruit is much less than when there is another tree nearby to pollinate with. So the case is raised for neighbours to band together and co-ordinate fruit-tree planting. Choose a couple of plums, for instance, which blossom around the same time. Find out whether the tree you want is early, mid or late season and plant another with a similar fruiting time.
If you have plenty of room and are serious about success, consider getting a beehive. I know of several beekeepers in our inner-city suburb, but check that the neighbours are okay with it first. You can also rent beehives from beekeepers who will manage the hives for you. Find out more from a beekeeping club.
Bee-friendly gardens have plenty of flowers blooming all year round and gardeners should limit their use of pesticides, thinking instead about encouraging biodiversity in their gardens to aid natural pest control. Even pyrethrum, an organically approved pesticide, will affect bees, so spray only in the evening to avoid killing these daytime insects.
When choosing what to plant, think about when you want to be picking fruit and plan your harvest for a time you're at home, not on summer holiday. Choose fruit trees grown near your region, as stated fruiting times will be more reliable from local nurseries, given the seasonal temperature differences between the North and South islands. Otherwise, accept there will be fruiting time discrepancies, and choose two trees from the same nursery.
When you're selecting your fruit tree, be aware that the root stock your tree is grafted on will dictate how big the tree will grow. Northern Spy and M25 apple tree rootstocks, for instance, will result in trees spanning 3m to 5m. At the other end of the scale, M27 rootstock is dwarfing and will produce a small tree suitable for a small patio garden.
The smaller growing rootstocks require better drainage and will not tolerate heavy clay soils so well.
Taller growing rootstocks cope better with heavy soils but the trees produce lots of vegetative growth to get to their natural height range before fruiting. They are also more of a challenge to pick from or get netting on to before the birds spoil the fruit. Ensure you ask a knowledgeable staff member at your garden centre how tall the tree will grow and what its preferences are, or buy from a specialist nursery.
To me, there's not much point in growing fruit varieties which are readily available at the supermarket. Try something unique that is known for its full flavour, or has recognised bottling, cooking or storage qualities. You will find these qualities in heritage fruit trees. Pantry shelves heaving with preserves needn't be a thing of the past; it makes a heck of a lot of sense to make your own. Spend a little time now planting a fruit tree and, in years to come, you, your family and community will be reaping ripe rewards.
Productive pruning
* Choose a fruit tree shape and stick with it. The "vase" is or "central leader" are the two main forms.
* Prune to outward facing branches, and aim for balanced shape overall. Remove overlapping, touching branches, dead wood and crowded inward-facing branches.
Apples and pears
* Pipfruit tend to grow vertical branches, so need training. Try growing them on espalier frames, or use guy-ropes or wooden spreaders to establish an open framework. This encourages fruit production.
* Apples fruit on short spurs on old wood. In winter, shorten last season's growth by to coax spurs close to main branch.
* Tip-bearing varieties (eg. Jonathan, Golden Delicious) bear fruit from terminal buds, which should be thinned, not shortened.
* In summer, thin some new growth to improve airflow.
* On young trees, remove most of the fruit so fruit weight won't damage young branches.
* On older trees, thin overcrowded old spurs to provide room for fruit to develop to a good size. Prune stone fruit trees (plum, peach) in late summer/autumn after harvest to avoid spread of silverleaf disease in winter.
Tips:
* In humid climates fruit trees such as peaches may suffer brown rot and other fungal disease. Plant where there's plenty of air flow and drainage, such as an exposed bank.
* Prune on a dry day to prevent spreading fungal spores.