Easter is a time when you can combine a festival with gardening, writes Meg Liptrot.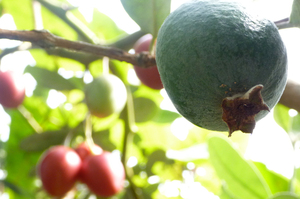 There are three fruits which ripen at Easter that are appropriately egg-shaped, delicious, and perfect for a refreshing break after gorging on chocolate.
Of the fruits - feijoa, tamarillo and passionfruit - the passionfruit is most symbolic of the Christian meaning behind Easter. In its ornamental flower, the circle of filaments represents Christ's crown of thorns, or espina de Cristo, as seen in the eyes of the Spanish missionaries in South America when they came across the plant.
"Passion" refers to the passion of Jesus. Other flowers, such as those in the cruciferous family, which include rocket and cabbage, are named because of the cross-like arrangement of the petals.
Easter was recognised well before the time of Christ. It was an ancient celebration in the Northern Hemisphere held at the beginning of spring and named after the rising sun in the east.
Eggs, painted red or decorated, and the hare were symbols of fertility in these festivities and later absorbed into Christian symbolism.
Our family, in an effort to curb the ritual overdosing on chocolate, often give bulbs and sometimes decorated pots at Easter.
This links us with the Northern Hemisphere Easter because bulbs we plant now will flower in spring.
In the Southern Hemisphere, we have the tamarillo, our own red or golden egg, which is ready to pick at this time. The tamarillo was also introduced to New Zealand from South America, where it is native to the northern Andes. The fruit was originally known in New Zealand as the tree tomato but was renamed tamarillo, a made-up name which the Tree Tomato Council said sounded like a combination of Spanish and Maori.
Aotearoa also has its own endemic passionfruit, the native climber Kohia (Passiflora tetandra). The berries are orange and the size of a grape. The oil from the kohia fruit is used in Rongoa Maori to heal wounds, and birds love them.
Apparently the fragrant fruit can be smelled from a distance in the bush.
Finally, we have the feijoa, another South American, native to southern Brazil and Uruguay.
They ripen here from April to May, and are a staple in many Kiwi backyards.
Kids can go on an "Easter egg hunt" for feijoas every day at this time of the year Just provide them with a basket and they can happily collect fallen fruit each morning. They really do look like Easter eggs in dewy early morning grass.
Another classic trick at Easter requires a little pre-planning. If you have a passionfruit vine, write children's names and draw patterns on unripe green fruit, using a sharp twig.
When ripe a couple of months later (at Easter), the dark purple fruit will bear miraculous white Easter decorations, as if they grew that way naturally.
Growing tips for Easter fruit
Feijoas, tamarillos and passionfruit each fill different niches in the garden.
* Feijoas can cope with tough conditions with their leathery leaves. They are a relative of the pohutukawa, so can handle drought and clay soil.
* They will fruit better with a bit of pampering, and keep them mulched. They also need to be planted with another feijoa as they are not self-fertile.
* There are many varieties of feijoa, including a new cultivar called 'Bambina', which is a small-growing tree with small fruit, able to be eaten skin and all.
* I've grown feijoas as loose hedging, used a couple of taller growing varieties, including 'Marion', to create an archway over a path, and grown three 'Kokako' feijoas as standards with a straight trunk and branches pruned into an open ball.
* Overgrown feijoas can be cut back quite hard when they are dormant in mid-winter, before the sap flows again in spring.
* Passionfruit vines and tamarillo trees, on the other hand, are sensitive things, requiring shelter from strong wind, plenty of compost, good drainage, and watering if it's been a dry summer (not the case this year!).
* Both can be pruned back when dormant to encourage fruiting after several years.
* Tamarillos have large, soft, heart-shaped leaves suitable to plant in a subtropical food forest along with bananas and pawpaw.
* Tamarillos are rich in iron and potassium, but can be an acquired taste. They are nice stewed or made into relish. 'Tango' is a new variety bred to be a little sweeter. 'Bold Gold' is a golden cultivar.
* All three fruit will appreciate a dressing of chook manure-enriched compost.