Flowers from bulbs provide the world with happy hues, writes Justin Newcombe.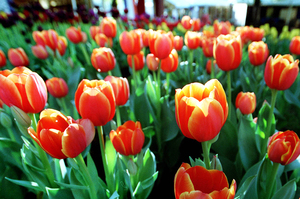 It takes a lot of technology to replicate the colours given to us by nature, and because we are bombarded constantly with one visual assault after another we tend to forget just how bright the natural world can be.
One of the brightest and most reliable forms of colour available to us is the flowers from bulbs. Bulb flowering has been long espoused as a sort of magical event. After a grim winter of frozen rivers, frozen wells and frozen family members, the first emergence of colour was an important morale booster, encouraging our forebears to grit their chattering teeth for just that little bit longer.
Crocus are one of the earliest bulbs to come up. They develop from single plantings to dense clumps of gentle purple, yellow and white spears which open out into a proud yellow-centred star. Crocus is no stranger to cold conditions and it's not uncommon for Northern Hemisphere folks to find them pushing their way through the remnants of a late snowfall. My neighbour has an amazing bed of crocus which makes a lovely spring posy when picked.
But there are few objects in human history that can remind us of just how stupid we can really be as the tulip. The Dutch inspired "tulip bubble" of the 1630s saw traders encouraging wealthy Europeans to part with vast sums of cash in return for unique or coveted tulip bulbs. Of course it eventually all collapsed. The casualties paddled around in their own financial ruin while the now valueless bulbs continued to bloom with wonderful forms that still remain a potent spring indulgence.
I've had some brilliant successes with tulips in pots. I have found in the warmer climes of Auckland that lifting them annually helps with flowering performance. I lift them, place them on a rack to dry, then store them in a cool dark place until the beginning of winter when they are planted into fresh soil again just below the surface. Planting them in the ground and leaving them is still an option though. As a rule tulips gardened in this way should be planted deeper, three times the depth of the bulb. Take great care to ensure the soil is free-draining all year around as, like most bulbs, tulips are susceptible to rot.
Gladioli can be planted around October/ November into free draining soil. In warmer climates the bulbs can be left in but will benefit from being split and replanted into fresh soil. The smaller corms which are common on the bulbs can be nurtured for a season in a cold frame and planted out the following year.
A relative of the gladioli is the iris. There is a huge variety of iris available and some of these varieties thrive in heavy conditions. A tip with irises is to trim the foliage back once the flowers have formed. They have quite weak stems and are likely to be blown over in the wind. Iris can be divided every three years or so into large clumps and planted about a foot apart.
The amaryllis is a marvellous bulb with a big audacious flower. They can be planted as late as November and will bolt to flower over a six to eight week period, a good choice for the tropical gardener.
This Easter, look forward to a spring display by planting your bulbs now.