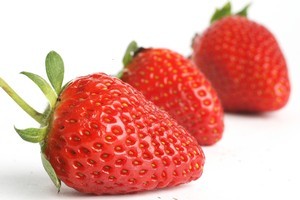 How to grow them:
Strawberries are fun to grow - easy, delicious and nutritious.
Perennials, they will last for many seasons, but are best lifted and divided after three to four years to ensure good yields of fruit.
To plant, remove all persistent weeds such as buttercup (which has similar leaves and growth habit to strawberry), then dig in compost.
To encourage sizeable fruit, apply organic nutrients high in potash.
Mulching with straw keeps ripening fruit off the soil, maintains soil condition and reduces weeds.
Do cover ripening fruit with bird netting or the blackbirds will beat you to it.
In the kitchen:
Slice strawberries and orange, mix in a few fresh mint leaves.
Drizzle with a lemon zest/sugar syrup. Sprinkle with chopped toasted almonds.