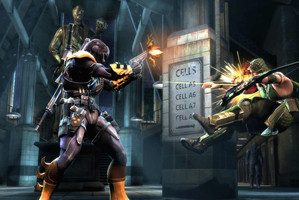 How the mighty fall. A grieving, desperate Superman has gone off the deep end, given in to rage, and become a super-villain who rules supreme over an alternate universe. Your task is to subdue him. It sounds complicated, but hey - this is the world of DC. Anything can make sense if you turn the screws hard enough.
How is it that the cast of characters - not all of them metahumans - can give and take a pounding of Kryptonian proportions? It's simplest to say they've all popped Superman pills, turning those less-super-than-Superman superheroes into the DC Universe's answer to Valerie Adams' arch-nemesis from Belarus.
The result is a jumped-up, utterly mad fighting game that is as cheeky as it is gory. Essentially it is the spiritual successor to 2011's Mortal Kombat reboot but, since you can't have fatalities, each fighter gets a deliciously epic hyper-move that can stop a match dead in its tracks. Aquaman, the butt of many jokes for being that guy under the sea who speaks to fish, has the best such attack in the game - he uses his trident to skewer his enemy and hoist them skywards as the screen fills with salt water and a rush of sea life, including a massive shark with lunch on its mind.
That, my friends, is how you turn the tide.
More so than MK, Injustice has to deliver on its plot. The comics are nothing without a story to move you and this one is deliciously dark. It clearly capitalises on the success of the Arkham series of games, with dominant roles played by Batman and the Joker, but there are serious influences from some of DC's classic stories like Kingdom Come and Red Son, where the superheroes are not necessarily super citizens. The Green Arrow steps forward as a surprisingly dark character, and Wonder Woman's burdens rest heavy on her ultra-powerful shoulders.
The fighting action is simple to learn and there isn't much variation between characters in terms of control, but that's a blessing for this game rather than a curse because the pace of the story - which can switch from a cutscene to an active battle with only a bar or two of incidental music to warn you - demands you play with agility, not struggle with complexity.
MK's challenge tower mode is replicated here as the S.T.A.R. Labs mission series, and is a fun way to kill some time in this universe without giving yourself up to the main story - perfect for that post-work, pre-dinner thumb workout.
I question the game's longevity from a story mode standpoint, but dedicated head-to-head players might carry this one on for a very long time. This is a super, ballsy effort from NetherRealm Studios that looks great and sounds sharp. The story is deep, compelling, and genuinely moving at certain points. Grab Injustice with both hands if you like a good, solid brawler.
Stars: 4/5
Platforms: Xbox 360, PlayStation 3, Wii U
Rated: R16
- TimeOut