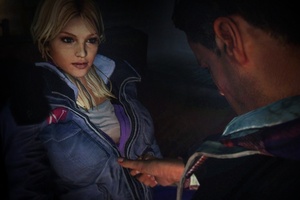 I like games that force their way onto my radar. Until Dawn, a schlocky horror game built for - of all things - the PlayStation Move controller, certainly wasn't something I would have normally encountered, but after seeing a level demoed, I'm intrigued to find out more.
Until Dawn, you see, is the video game form of an infinite number of tacky, cheesy teen horror movies. The setting, dialogue, and gameplay elements all evoke everything from Evil Dead to Scream and everything in between - and from what I saw, it's at the very least got the atmosphere down pat.
In Until Dawn, seven teenagers go on holiday to one of the kid's parents' luxury ski resorts in the mountains of British Columbia. As expected, at least some of them are horny and intent on doing something about it. Two of them are banished by the others to a smaller cabin a short distance away along a dark, snowy path, where surely nothing could go wrong, right?
Immediately, it's clear the developers have nailed the dialogue. The first words in the chapter I saw? "Exiled," said the boy. "More like, 'sexiled'," replied the girl. It's awful, but intentionally so.
Oh, and the chapter is called 'If you go down in the woods today'. Love it.
This tone is kept up throughout as the two characters make their way through the woods to the secondary cabin, and the pacing is spot-on: at first they're confident and teasing towards one another, trying to appear impressive. But as they go deeper into the woods, things start subtly going wrong, and the dialogue becomes more and more fear-tinged.
So where's the gameplay in all of this? You play from a first-person perspective, switching between controlling the guy and girl as the story demands. The Move controller acts as one of your hands - one that's most often holding a torch. Holding the trigger button makes you move forward, and various paths and objects are scattered along your route that you can interact with. An abandoned mine shaft, for example, is discovered partway along the way - here, the player can interact with a few levers to make a mine cart move forward, and find items to inspect.
It's streamlined, simple, and the initial fear is that it's going to be extremely linear, but the developers stressed that they wanted to provide different paths in the levels - and that chapters can play out differently depending on your actions, even to the point of influencing who survives at the end.
The idea behind the game was for it to be just as watchable as it is playable, and it was certainly immersive even when I was just a passive observer. I can imagine it being lots of fun to have a few people over and take turns controlling different characters.
The confidence and dedication to the teen horror genre really shows, and the interactive nature of Until Dawn made it an oddly freaky experience, even though I was in a crowded room full of journalists. That's an impressive achievement, and it makes me eager to get some hands-on time myself - but maybe only with the light on.