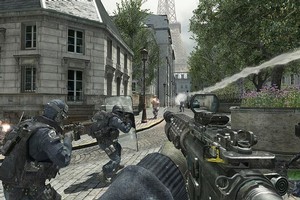 Why change a formula that works? This highly anticipated close to the Modern Warfare series was always going to be packed with huge set-pieces, alarmist warmongering rhetoric and a few bits to offend the easily offended. Nothing massively innovative has been added, it's simply the next chapter in the extraordinarily popular series. It continues where number two closed off, with nasty nationalist Makarov's campaign for world domination ticking along, before it all kicks off into World War III.
There are a bunch of familiar faces and some newcomers as the story works towards its spectacular conclusion, and as the game progresses you jump between characters and countries to wage war on Russian invaders.
This globetrotting shooter is just as fast and frantic as its predecessors, with marginally better graphics tying together the same frenzied gameplay. Pacing is rapid, with cut scenes kept short and sweet and the focus on dispatching enemies in many, many violent ways. But the linear nature of some levels does lessen the intensity of gameplay - it becomes "oh great, yet another massive firefight against all odds, shouldn't take long to get past it".
And for those who prefer campaign play to the online warzone, the story itself is frighteningly brief, an easy-setting run will last less than five hours - a longer game just requires cranking up the difficulty. But short as it may be, it's hugely engaging watching big, familiar cities get laid to waste as the battle rages - getting out of the way of a falling Eiffel Tower certainly has a bit of impact.
The nasty content count has probably increased - one scene where stealthing through the canals in Prague sees players pushing through bodies as enemy executions keep stacking the corpse pile higher. If you're easily shocked, this content can be turned off. One scene that has already attracted wowser ire - and rightly so - sees a family blown to bits in London by a terrorist bomb. It seems to exist solely for the purpose of winding up the PR machine, as MW2's terror raid on an airport did immediately upon release. Multiplayer continues to be the dominant feature - confirmed by the millions of hours logged on Call of Duty servers.
There's a new weaponry feature that upgrades the abilities of your favourite weapons - like more stability or better range - and there are thousands of weapon combos available through the dense RPG-style improvement tree. Killstreaks have now been chopped into two different sets, with gains made either by doling out death or helping out your team. There are more than enough new goodies in multiplayer mode to keep players coming back, most notable being the SpecOps missions and refined Team Deathmatch. Is it worth shelving BlackOps for? Yes, especially if you want to play with some far more serious hardware, explore the ever-evolving CoD multiplayer, fight among tourist trap landmarks in some of the world's most beautiful cities and see just how far the evil Makarov gets.
CALL OF DUTY: MODERN WARFARE 3
Stars: 4.5/5
Platform: Xbox 360
Rated: R18