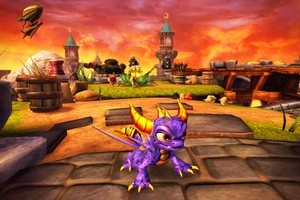 Activision are clever clogs. When it comes to selling plastic goodies tied to their games, the company has no competition. Think Guitar Hero and how many pretend guitars were sold over its very successful lifespan.
Now it's a kids' game that has game retailers rubbing their hands together.
Skylanders is a childish 3D platformer with a difference.
For starters, without a few of 32 little plastic Skylander characters and a USB "Portal of Power", you can't play the game.
It works like this - the characters are divided into groups of "elements", each of which are needed to access different parts of each level. Put a character on the "Portal" and it comes to life on screen - the perfect collector game trick for kids, out Pokemoning Pokemon.
The game itself is a reasonably simple concept - a 3D platformer packed with cute characters and a reasonably basic storyline. Players must navigate their way around levels, collecting bits and pieces to upgrade their characters.
There are puzzles a-plenty and while most aren't hugely challenging, some of the boss battles will likely require a bit of assistance from Mum or Dad.
If a character isn't effective enough in a battle or while solving a puzzle, simply take it off the portal, and pop another one on.
One particularly annoying feature - but one that will likely furnish the publishers with plenty of character sales - is that though you can switch through all your characters while fighting the bosses, when you run out you're sent back to the beginning of the level. If you've got lots of Skylanders, it's a whole lot simpler.
This will be the Christmas pressie that will make parents heroes - it's hugely entertaining for kids (and their folks), with repetitive yet interesting gameplay, collections of characters and trading cards to gather, and even some web-based fun for a bit more added value.
Skylanders Spyro's Adventure
Platform: Xbox 360 (also Wii, PS3, PC)
Classification: G
Stars: 4/5
-TimeOut