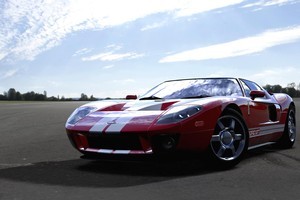 Microsoft's Forza Motorsport has always gone head to head with Sony's Gran Turismo - but the Xbox game has pulled away from the competition with its latest version.
Forza 4 makes use of the Kinect gesture control system, and though actually driving the cars with this won't reward racing sim fans, its use in Autovista - where you can explore high-res 3D renders of vehicles, and head-tracking during races (to give a more accurate cockpit-view driving experience) is impressive.
There's the usual line-up of hundreds of vehicles to drive - from tiny "F" class Micras, through to "R" class Le Mans weaponry, classic racers and bogan muscle cars. Car physics are absolutely superb, with both "normal" track driving and drifting feeling very responsive and controllable.
Game progression starts drivers off at a fairly basic level - although if you've got an existing Forza profile you'll get a Forza Faithful achievement, a bunch of cars and a good pile of credits for a nice head start.
As your driver level improves with experience, the types of cars and circuits available improve, and even include mini-games like Top Gear's famed car soccer or other Top Gear track fun like knocking over pins for high scores.
Graphically it's another step up, with clear and well-rendered environments to horizon and an impressively swift frame rate. Online options are plentiful, with cars that you modify uploadable for others to buy at auction, sharing of video and photo files and head-to-head racing.
A rivals mode lets you compete directly with other drivers, time attack style. This is the king of the racing sims on consoles - no doubt - with plenty to offer serious achievement-chasing virtual racers and pick-up-and-play arcade game fans.
Stars: 5/5
Platform: Xbox 360
Rated: G