Nintendo and Sony unveiled their next generation gaming hardware this week. Matt Greenop takes a look at both and the new crop of game titles.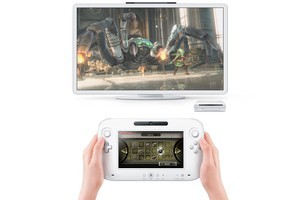 Nintendo updated its hugely successful Wii console this week at the E3 gaming expo in Los Angeles, with a unique new control system.
There's a hardware star every year, and while the Wii has only been around since 2006, it wasn't at the cutting edge of technology when it was first released.
But the cheesily named Wii U does forge some new ground, and while it will likely be priced at the pointy end of the console market initially, it's got a lot of potential. Whether core gamers will put down their 360 controllers and switch sides is another story.
Following up a ridiculously successful, but obviously obsolete, product like the Wii was always going to be hard for the Japanese gaming giant.
While it has still been innovating in the portable world, with a 3D version of its market-ruling DS portable - which didn't need stupid glasses to see the multi-dimensional effects - Nintendo's Wii has gone stale.
The Wii pioneered motion control well before Microsoft or Sony could hit back effectively and, for a while, it ruled the gaming world.
But in the past two years Sony has released its Move system, similar in concept to the Wiimote controllers but far more accurate, and Microsoft has launched Kinect, which does away with buttons entirely and maps body movement for control.
Xbox and PlayStation both pumped out high-definition video to the flat-screen TVs that everyone has, while the Wii was still giving us chunky, standard def graphics.
It was generally considered that aside from the rapid hordes of Nintendo fanboys, the Wii was the family console, but core gamers stuck to Xbox 360, PlayStation 3 or PCs.
Nintendo will surely stick to its modus operandi with the Wii U and continue to pile up titles and build on its universe - Mario being the obvious, with the 25th anniversary version of Super Mario Bros shipping last year.
But titles like Zelda, Bowser, Princess Peach, Metroid and all of the others still sell games, and consoles. Bear in mind that Nintendo is the great survivor in the gaming industry, still producing both hardware and software while its original real rivals, Sega and Atari, are now making games for other consoles.
The new Wii features an impressive-looking, very unique controller that sports a large 6.2-inch touch screen in the middle with two analog circle pads and the usual host of buttons (A, B, X, Y, L, R and ZL, ZR tucked away underneath).
There's a built-in accelerometer and gyroscope, as per the previous generation wand controllers, plus a stylus, player-facing camera, microphone and stereo speakers.
Aside from the very welcome news that titles from the Wii will be very much playable on the high-def machine, Nintendo also announced that existing controllers will also work.
This includes the pricey Balance Board that helped turn fitness game WiiFit into an absolute stormer, including WiiFit classes appearing in gyms around the world.
The proprietary 12cm Wii U discs, obviously, won't play on the old Wii.
But looking at the slick new controller, and considering that there's been no pricing announcement about the Wii U - and its technical spec is quite impressive - you can't help but wonder just how hefty a beating the wallet will face when it releases.
One awesome trick - that will have parents the world over rejoicing - is that when Mum and Dad want to watch the news, little Johnny can simply start playing his game on the controller's screen.
This makes it like a DS (despite needing to be near the console proper) with a bigger screen than the XL.
One can easily imagine the no-glasses 3DS screen type being used in a future - or perhaps even the full production - version.
While it's not an HD screen per se, word from the floor at E3 is that it looks very good - and the controller is light enough that kids won't be suffering from RSI, or whatever it is that Team OSH calls it these days.
Under the hood it looks pretty tasty - multi-core IBM processor, support for resolution up to the 1080p, HDMI with six-channel PCM linear output, AMD Radeon-based graphics processing unit, four USB ports and component, S-Video and composite outputs. There's internal flash memory, with SD card support as per the Wii, but the option of using an external USB drive.
Just how much flash storage will be standard on the device also remains unannounced, and it is not clear whether the USB drive support will be reserved for Nintendo-badged storage only, or if any old external drive will do.
Showpiece "games" - basically technical demonstrations of exactly what the Wii U is capable of - were equally well-received by most game press. The general consensus is that if priced well, and with a good mix of Nintendo's bread-and-butter titles and third-party titles that might haul pasty core gamers out of the shadow of Xbox Live, it will do good things.
That said, the Japanese stockmarket didn't exactly turn flips at the announcement, with Nintendo shedding around 5 per cent of its stock value early this week as analysts doubted the new console's credentials to rival the highly successful Wii or DS - both market leaders soon after release.
As sweet as the new controller and console is - will it be able to compete with the no-controller option of Microsoft's Xbox 360 Kinect that squarely suits the very un-tech family market?
Vita's statistics
While Sony execs at E3 quickly addressed the elephant in the room - the fact that its PlayStation Network, and several of its other networks have been hammered by hackers over the last two months, costing tens of millions of dollars - the big news was "Vita".
Vita is the replacement for PSP range, its portable gaming device. Already pimped by Sony as the Next Generation Portable, Vita - meaning "life" - looks to be an impressive device.
Early pricing indications are terrifying, though - a 3G version (meaning a data plan with Telecom or Vodafone) will sell in the United States for US$299 ($360), and a Wi-Fi-only device will sell for US$249.
It has a five-inch multi-touch OLED screen with a rear touch control pad for gesture-based control, a la iPhone, plus front and rear facing cameras.
It apes Nintendo's 3DS "street pass" with software that finds other Vita users in the vicinity.
Sony also demonstrated a US$500 24-inch 3D television that allowed two players, wearing 3D glasses, to play two-player mode on the same screen without "split screen".
E3: games to watch for
Battlefield 3: EA's first-person shooter is back to battle with Activision's Modern Warfare 3 - both will release in November.
Forza 4: Flashier graphics, car walk-arounds with Kinect, plus voice control and head tracking for the Xbox flagship racer.
Rise Of Nightmares: Behead zombies with your bare hands using Kinect. Looks like a real charmer.
Gears Of War 3: Is that a chainsaw attached to a massive gun or are you just pleased to see me? Most polished GoW yet - awesome.
Batman: Arkham City: Darker and nastier than the Batman of old, this follow-up to Arkham Asylum looks stunning with frantic and well-scripted gameplay.
Rocksmith: More gameplay info on the guitar game that uses your electric guitar rather than a weird plastic fake. Must-have for musos.
Tekken: The classic PSX fighter finds its way to Nintendo 3DS - and Wii U, when it appears.
Dance Central 2: Update to popular Xbox game is backwards-compatible with the 100-odd tracks already available.
Uncharted 3: Drake is back in PlayStation's exclusive blockbuster series - one of the best adventure games you'll ever play.
Resistance 3: It's a few years since the Chimera took over the US - now its time to fight back, again. Will ship in bundle with Move Sharpshooter for motion-based mayhem.