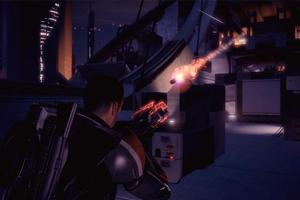 Mass Effect - the highly successful Xbox/PC-only space adventure continues in this epic second instalment, offering more depth and more engaging gameplay. It expands on the well-scripted story, following Commander Shepherd as he joins forces with the evil empire Cerberus and its mysterious leader The Illusive Man, and assembles a crack team to find out why entire human civilisations are disappearing without a trace. The genius team at Bioware have tidied up a few of the nasties from the original, refining the combat system.In fight mode, it's fast with upgraded firearms making for savage battles against massive mechs, aliens and anyone else that gets in the way. Excellent graphics (rendered up to 1080p), cinematic cut scenes and effective multichannel audio. Decisions you make throughout the game will have a bearing on Shepherd's moral fortitude, and it is possible to import character data from the original game.
The only real gripe is money. To achieve anything, you need cash and minerals, and lots of both. To get what you need to upgrade weapons you need to explore planets with a tedious manual scanning system. Way to pad out a game, guys.
Verdict: Once you've waded through the 25-odd hours stuck to a high-def telly, you'll already be pre-ordering Mass Effect 3. A riveting third-person classic players of the original and newcomers should enjoy.
4/5
Reviewed on Xbox 360, R13