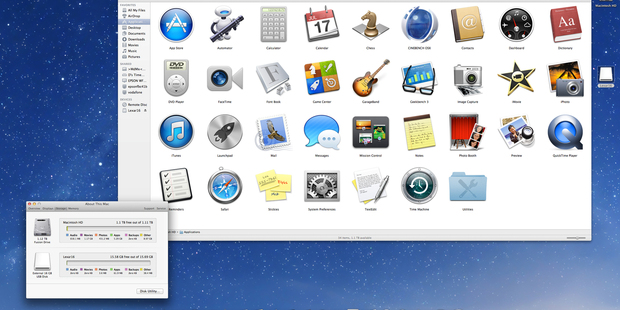 A couple of weeks back, I talked about the new iMac with the latest generation of Intel CPU, the Haswell, and mentioned how I'd really like to try a Fusion drive version to see how it compares to my MacBook Pro's Solid State Drive and to a traditional hard drive.
Apple, luckily, noted my request and lent me one for a couple of weeks.
This looks, of course, exactly the same as the one I tested a couple of weeks back. It also has no optical drive. This one is the faster and more expensive of the two models with the 3.4GHz Core i5 Haswell quad-core CPU, which costs NZ$3099 with the 2GB video card and a standard hard drive.
It also comes with 8GB RAM, leaving two slots free for future upgrades.
However, this test model is also fitted with the 1.11TB Fusion Drive which combines the speed of a Solid State Drive with the cheap mass storage of a traditional hard drive. So fitted, this iMac retails in New Zealand for $3419, or $320 more than the stock model (on Apple's site the optional drive is listed as '1TB' in capacity). For $560 extra, you can get the 3TB internal Fusion option.
Fusion Drive is really Apple's name for the technology built into OS X Mountain Lion and later versions of Mac OS: the data management maximises the performance that the combo-drive offers. This makes your Fusion Drive appear as a single volume rather than as two different volumes. You don't need to think about where you put what. You never really do with the way Macs handle data, anyway, unless you want to. Copy information to the hard drive - install software, download via a browser, the offload photos from a camera - and it is copied to the SSD first. The iMac relies solely on the faster solid state storage until it's nearly full (apparently when there's about 4GB left). Once that happens, OS X manages your data, but it always keeps a small amount of space free as a buffer for incoming data to ensure file transfers, copies and other incoming disk operations remain as fast as the SSD permits.
Because of this, despite the large bulk of your storage being on a traditional hard disc platter, write speeds will remain fast.
For those Mac owners into techy stuff, you probably know you can choose About This Mac from the Apple menu, and then click the 'More Info ...' button and you get a nice descriptive panel telling you various things about your Mac, under the tabs Overview, Displays, Storage and Memory. Storage is great for a quick looks at what's taking up what on your hard drive. In turn, on the Overview panel, though, click System Report to get much more information about your entire system. On here, clicking either the SATA/SATA Express or Storage options at left and you see, in this case, that the SSD portion is 121.33 GB, and the traditional hard drive is 1 Terabyte.
So how does it perform? From off, the 3.4GHz iMac with Fusion boots up in a very impressive 15 seconds, but note that only has a system and Apple's standard software on it. Hopefully, Apple's management keeps critical startup routines on the SSD part.
My MacBook Pro has a pure SSD as internal drive. It booted up in 30.3 seconds when I first got it, but now, with lots of files and apps and whatnot including Adobe CS 6, Logic, Final Cut Pro X and a lot more on it, startup time has dropped to 1 minute 6 seconds. The new iMac I looked at a couple of weeks ago, with a standard 1TB hard drive, booted up from off to usable in 1 minute 12 seconds.
A 1.12GB file duplicated on the MacBook Pro's SSD in 5.71 seconds. This same file duplicated in 12.32 seconds on the 2013 iMac, and on a 7200rpm LaCie 1TB external hard drive plugged into the laptop, 23.9 seconds.
This file on the 3.4GHz Fusion iMac took 5.57 seconds to duplicate, so the SSD part of this mid-2013 iMac is already quicker than my 2012 technology.
In my performance measurements of various Macs over the last few years, the steady climb in processor power is clear. The scores listed below are all for multicore.
Mid 2010 27-inch iMac i7 4-Core 2.93GHz 12GB RAM: Geekbench score 10,850
Mid 2012 MacBook Pro Retina/SSD 15-inch, i7 4-Core 2.6GHz, 16GB RAM: Geekbench score 12,748
Mid 2013 27-inch iMac Haswell i5 4-Core 3.2GHz 8GB RAM: Geekbench score 11,221
-The mid-2013 27-inch Haswell i5 4-Core 3.4GHz 8GB RAM Geekbench score was 11,651
That increase is largely due the margin between a 3.2GHz i5 and a 3.4GHz, with some of the compression scores notably better on the Fusion. Remember you can get the Geekbench software yourself and it runs on most platforms. It's free in the 32-bit version, but I used the paid 64-bit one.
Also remember the Geekbench results browser lets you see all kinds of benchmarks people have posted, for all kinds of platforms and configurations.
(The new Mac Pro, you may also recall, clocked up 23,901 in uploaded benchmarks. The new Texas-assembled tower is not on sale yet, but may be among the October 23rd announcements so keep an eye out for that. The Geekbench figures posted were from a pre-release Mac Pro; final specs are not yet certain.)
Another test you can do, entirely free, is Maxon's Cinebench, which concentrates on CPU and video routines. The 109MB download also comes in Mac and Windows Vista, 7 and 8 versions.
It's based on Maxon's animation software CINEMA 4D.
The Cinebench results for the 2012 MacBook pro 15-inch with Retina Display, which has the i7 version of the Intel CPU prior to Haswell gave a CPU rating of 578.
The 2012 MacBook Pro with it's 1GB video card gave an OpenGL rating of 51.35 frames per second, compared to the 3.4GHz iMac's 81.46fps and a CPU rating of 520. Not too remarkable a difference - the iMac only has an i5 CPU and the MacBook Pro has an i7 - even though it's a previous generation of CPU, the i7 has Hyper-Threading (unlike the i5) - this creates four additional virtual cores for a total of eight threads and better all-round performance.
So there you have it - Fusion is definitely better than a standard hard drive, and a 2GB video card is definitely better than a 1GB.