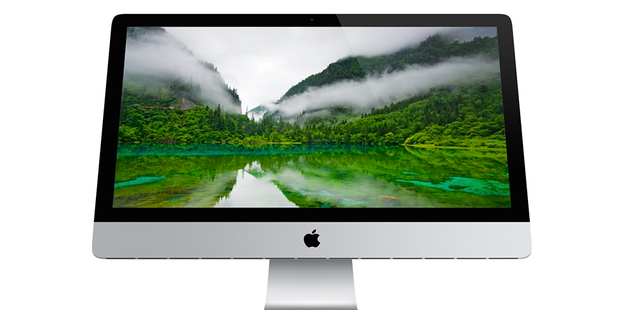 I was keen to try a new iMac to see what kind of difference a Haswell CPU makes. Three years ago we bought a 27-inch iMac for the photographer in the family to work on. The award-winning artist and arts lecturer creates super high resolution images often several metres wide, the record being seven metres, merged into one from high definition shots (sometimes hundreds) shot on a Canon 5D MkII. With this in mind, we added extra RAM ourselves from the 4GB it came with (to 12GB) and specified a 2TB internal hard drive, plus the Core i7 option (for that time) running at 2.93GHz.
It's still running superbly and we have no need to replace it - but it serves as a good comparison to Apple's latest, which just appeared with Intel's new Haswell fourth generation CPU. It also has faster graphics, can be fitted with Fusion and flash storage options, and it also contains the faster new 802.11ac Wi-Fi standard (which I could not test.)
To look at, the new model is thinner than the 2010 from the side but otherwise it's almost identical. To achieve this, it no longer comes with an optical drive in the right hand side, but if that's something you feel you can't live without, Apple's sleek external option looks pretty good alongside any Mac for $119.
The two new stock 27-inch configurations cost NZ$2799 and $3099. The cheaper of the two, the 3.2GHz I tried, has the following specs: 3.2GHz quad-core Intel Core i5 with Turbo Boost up to 3.6GHz, 8GB RAM, 1TB hard drive and video served via an NVIDIA GeForce GT 755M with 1GB video memory. I don't believe the VRAM is user upgradeable, but the same card comes with 2GB VRAM in the more expensive stock option.
The $3099 option has a faster CPU and a 2GB video card: 3.4GHz quad-core Intel Core i5 with Turbo Boost up to 3.8GHz; 8GB (two 4GB) memory; 1TB hard drive and NVIDIA GeForce GTX 775M with 2GB video memory.
RAM at 8GB is the minimum these days (which is good) but you can order it with 16GB or 32GB for an extra $320 or $960, at Apple prices, or put more in yourself. To reach 32GB, you add an 8GB SIMM to each of the four slots. Note that the 8GB stock model has two 4GBs in two slots, leaving two empty for a very easy upgrade in the future.
The standard drive, as in the test model, is the 1TB ATA at 7200rpm. There's no 2TB option on these, but to go to a 3TB standard HD costs another $240, or to change the 1TB HD to a 1TB Fusion add $320 and so on.
For the 2010 27-inch iMac with the Core i7 CPU (one processor, four cores), 4GB RAM, with a Magic Mouse and Magic Trackpad combination added for another $122 via Apple's online Build To Order, total retail with the new GST for this setup back in 2010 was $4402.02 including GST.
To specify the latest 2013 Haswell version of the 27-inch to something similar, I looked at Apple's iMac buying site.
Either because of the strong New Zealand dollar or for other economic, production streamlining or modern parts-cost reasons, it's possible to get a better specced 27-inch iMac these days for less money. For example, if you select the 3.2GHz 27-inch iMac and ramp the RAM up to 16GB (12GB isn't an option), change the HD to a faster 3TB Fusion drive (which combines SSD with traditional HD storage) and add in the same Magic Mouse and Trackpad combo, the current cost is just $3778 including GST (and shipping is free from items bought at Apple online). That's a saving of NZ$624.02 for more RAM, a bigger, faster hard drive and the addition of a trackpad.
So how does the latest 27-inch iMac compare? The lesser of the two stock 27-inch Haswell iMac configurations with a standard, and not Fusion or even faster SSD, option still outperformed the three-year-old 27-inch.
Start up time, from off-to-usable, is 1 minute 19 seconds. My MacBook Pro has an SSD as internal drive and that booted up blisteringly fast when I first got it (in 30.3 seconds). No longer, I'm afraid: with lots of files and apps and whatnot, that's dropped to 1 minute 6 seconds. (Time for a decludge, methinks.)
The new iMac boots up, from off to usable, in 1 minute 12 seconds. Not particularly dissimilar.
Duplicating a 1.1GB file duplicates on the MacBook Pro's SSD took 5.89 seconds. The same file duplicated in 12.32 seconds on the 2013 iMac, and on a 7200rpm LaCie 1TB external hard drive plugged into the laptop, 23.9 seconds.
Remember this trial iMac has a standard 7200rpm 1TB HD, not a Fusion drive, so obviously progress has been made with the bus and controller.
In my own measurements of various Macs over the last few years, the steady climb in processor power is clear. (Check my macnz site for what's what.)
On the graph, the new iMac features on the right in gold. Here are the three latest figures (the macnz site compares ten).
Mid 2010 27-inch iMac i7 4-Core 2.93GHz 12GB RAM: Geekbench score 10,850
Mid 2012 MacBook Pro Retina/SSD 15-inch, i7 4-Core 2.6GHz, 16GB RAM: Geekbench score 12,748
Mid 2013 27-inch iMac Haswell i5 4-Core 3.2GHz 8GB RAM: Geekbench score 11,221
The 2012 15-inch MacBook Pro with Retina Display is still faster than the new Haswell iMac, but bear in mind the new iMac only has an i5, not an i7 version of the CPU. The Core i5-4670K Haswell apparently has 33% less cache than the Core i7-4770K and no Hyper-Threading, which helps by creating four additional virtual cores for a total of eight threads, to increase performance during multitasking procedures.
Now, for PC comparisons of these scores, you could download and run Geekbench yourself (it has versions for Windows, Mac, and Linux - and for Android and iOS). If you have a new Haswell iMac with a Fusion or SSD, and/or more RAM than stock, please let us know your multicore score in the comments.
Also note that the Geekbench results browser lets you see all kinds of benchmarks people have posted, for all kinds of platforms and configurations.
Just out of interest, the new Mac Pro clocked up 23,901 in uploaded benchmarks. The new Texas-assembled tower is not on sale yet, so the figures are from a pre-release machine; final specs are not certain.
The new iMacs have better built-in cameras supporting full native resolution on the built-in display, plus up to 2560 by 1600 pixels (30-inch display) on an external. Wireless is 802.11ac which is IEEE 802.11a/b/g/n compatible and it has Bluetooth 4.0 wireless technology.
The four USB ports are now USB 3, but it has the original Thunderbolt standard, not Thunderbolt 2, which seems odd.
All the specs and included software are available to read online.
The new Haswell-equipped iMac is definitely faster, looks fantastic and for applications like Logic and Final Cut, that large screen is pretty hard to beat. New build-to-order options make it faster than ever for cheaper than ever.