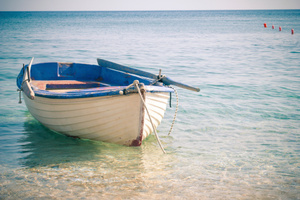 BOATING IN A BOX: Carting a small boat about can be a problem. The Transporter packs down into a self-contained box, small enough to carry on a quad bike, that takes only moments to reassemble at your destination. A single compartment holds all the other sections, including nose, pontoons, lifejackets and oars. While on the water seats are around the edges of the boat where the pontoons are so it's very stable. Clever.
KEEP THE RUBBISH FLOWING: The landfills near Oberlin, Ohio, aren't just storing rubbish. Instead they've replaced coal for around half of the town's energy supply. Anaerobic methane fermentation can turn 1 million tons of municipal solid waste into 1 megawatt of power, so two nearby landfills compress, filter, and dry emitted methane gas before sending it into the local utility grid.
By 2015 Oberlin expects to source around 90% of its energy from landfill and other renewables such as hydro, solar and wind. Keep creating rubbish, folks.
RETHINK THE JEANS: Wearing denim jeans? They were brought to you courtesy of cotton, 42 litres of water, up to 15 vats of dye, an array of harmful chemicals and heaps of energy. In other words, the environmental cost is probably much higher than the price tag suggests. A researcher at Heriot-Watt University thinks the environment could be better off if jeans were made of sustainable wood instead. The Tencel fibre is made of cellulose, while digital printing gives it the appearance of stone-washed denim. Tencel requires only 20% of the water, energy and chemicals needed to manufacture conventional jeans. It's worth thinking about.
TRIPLE CHARGE: Lithium ion batteries are very popular for all kinds of devices. But they can discharge quickly and be relatively slow to recharge. One problem is that the silicon anodes break down because they are constantly swelling and shrinking as the battery charges and discharges. A team of researchers developed a replacement: silicon nanoparticles etched with pores that increase the surface area and allow expansion and contraction without breaking down. The new technique allows batteries to recharge within 10 minutes and hold 3 times as much energy as existing batteries. A 10 minute recharge would be a dream.
MOVE OVER TV: As television moves from analogue to digital it frees up parts of the wireless spectrum known as white space. Those frequencies penetrate walls, bend around hills and travel long distances. That's good news for delivering broadband Internet over WiFi which can take up those frequencies. In Africa there are plenty of places with no Internet. In fact they may also have no phone, no electricity and little else going for them, except for the sunshine. A new scheme is bringing Internet to the schools though, by using solar panels to power wireless signals that can be delivered by a traditional TV antenna to smartphones and tablets. The same solar panels can also power the chargers needed to keep the devices running. Maybe all the TV channels could be replaced by WiFi and deliver the programmes online?
Miraz Jordan, knowit.co.nz