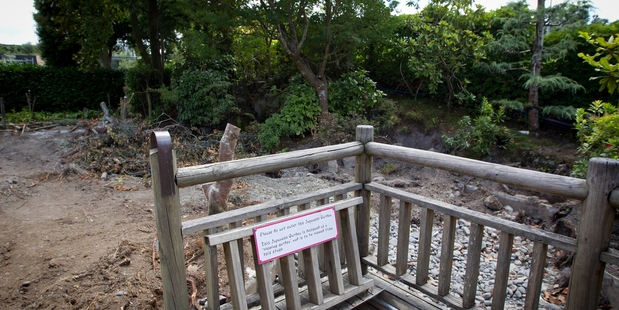 Auckland's Japanese community is demanding a demolished Japanese garden be rebuilt, and a community spokesman says a mayoral apology alone is "not enough".
The Auckland Council has been forced to make the apology after it destroyed a garden at the Auckland Zoo that was established to honour a sister-city relationship with Fukuoka.
The Fukuoka Friendship Garden was created in 1989 by volunteers but was removed by the zoo last week - a move that upset many local Japanese.
"The garden was a cultural landmark in Auckland, and we feel like the council has taken away part of our culture and a sense of belonging to this city," said Masa Sekikawa, the immediate past president of the Japanese Society of Auckland.
"Apology from the mayor alone is not enough and I feel the way to make it right is to reconstruct the garden in another location if it is not possible on the same grounds."
Auckland established a sister-city relationship with Fukuoka in 1986 and the garden was built three years later in recognition of this link.
It was originally designed and built by volunteers who travelled from Fukuoka.
Mr Sekikawa said the community had identified three possible locations - the Domain, the Botanic Gardens and a site within the zoo - and wanted Mayor Len Brown's commitment that he would push for the reconstruction.
Mr Brown will be making a formal apology on February 23 at Japan Day, which is held at the ASB Showgrounds.
However, organisers have been told that, unlike at previous festivals, the mayor will not be at the official opening but will arrive late in the afternoon to make the apology.
A spokesman for the mayor said Mr Brown "has a number of commitments" on February 23, and a final decision on his schedule had yet to be made.
A council spokeswoman said Fukuoka officials "understood" the need to remove the garden, and affirmed that the zoo's redevelopment plans "will not stand in the way of our sister city relationship".
She said the Fukuoka Greenery Department had given a list of items for the garden that it recommended be prioritised for storage, including the stone, hardware and plant material.
"All items identified by the department for storage are to be stored," the spokeswoman said.
"A project team, made up of experts and representatives from council and the zoo, has been formed to look at relocation options and appropriate care for the garden."