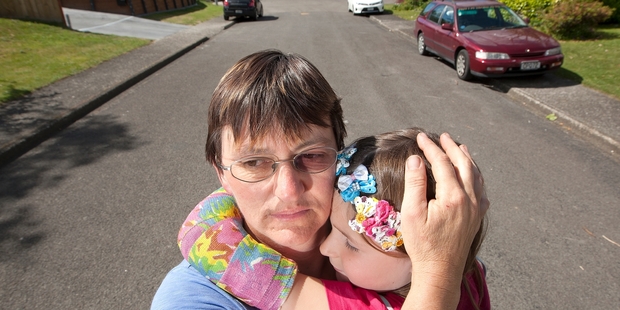 A Westbrook mum whose daughter was targeted by a stranger in a van outside her home wants Rotorua parents to be on the alert.
Police are investigating the Wednesday evening incident, and said it's timely for parents to remind children of stranger danger. There had been several reported incidents this year in Rotorua suburbs where children had been approached by a stranger.
A man driving a white van had been seen outside schools tempting children with lollies.
Mum Fay Jansen wants all parents to be on alert and warn their children of stranger danger after a man offered her daughter sweets to get into his white van.
The incident happened around 5.30pm Wednesday in the family's driveway in their Westbrook cul-de-sac.
The girl ran away from the man and told her mother what had happened.
Mrs Jansen said she had taught her children, aged 7 and 9, about stranger danger but she urged other parents to ensure their children knew how to stay safe.
It's thought the man might be the same person who has tried to tempt children with lollies since the start of the school year.
"My daughter told him to go away," Mrs Jansen said.
"He tried to encourage her to get into his vehicle by offering sweets and said they would go to the shops. She said no and came and told me. I called the police. She got a good description."
Mrs Jansen said it was frightening to think someone had tried to take her daughter from the front of their home. She and her husband were at the back of their property when it happened.
"It's very unnerving. We don't want this to happen to anyone else. I've lived in this area all my life, I played on the streets. We don't want to stop our children from playing outside," she said.
"We've taught them to be aware of their environment and that if someone approaches them who they're uncomfortable with then they should run away."
She said she had alerted other parents living in their street and called the Rotorua Daily Post to remind parents that this person was still on the loose.
In May Rotorua police Inspector Ed Van Den Broek said the police were getting an average of one call a week but no children had been harmed in the incidents which seemed to be at random locations. The man had been seen in the Owhata, Lynmore, Pukehangi and Western Heights areas.
Police wanted parents to reiterate stranger danger to their children and to teach them to "yell, run and tell".
Rotorua Detective Jeff Alpe said suspicious activity should always be reported by calling 111. Reports of this nature were taken seriously and investigated.
"If [children were] approached by someone they don't know, they felt uncomfortable and were concerned, [they should] say no, run away, or yell to attract attention, or run to a trusted adult straight away," he said.
*Do you have information that could help police? Call Rotorua police on 07 348 0099. Information can be provided anonymously via Crimestoppers on 0800 555111.
For more articles from this region, go to Rotorua Daily Post