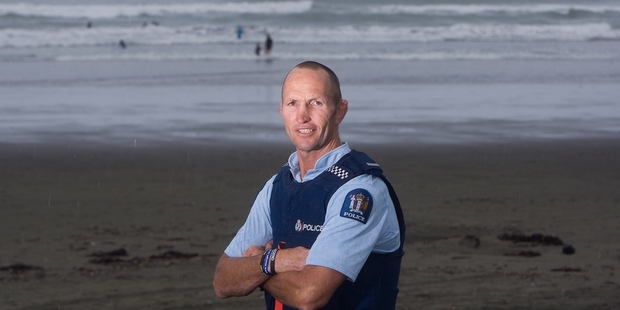 During his younger years, Whakatane Constable Dean Oswald hadn't planned on becoming a police officer.
However, 13 years after joining the New Zealand Police Force, Mr Oswald has been awarded a bronze medal from the Royal Humane Society of New Zealand for his role in rescuing three swimmers caught in an Eastern Bay rip.
On January 2, Mr Oswald was on duty as part of an Ohope summer patrol. That evening Whakatane local Charles Houhia, and two young boys, Elijah Houhia and Raymond Pahi, had gone for a swim opposite the Ohope Golf Club and become stuck in a rip.
After learning about the incident, Mr Oswald got hold of a quad bike and raced along the beach, arriving at the scene at 7.45pm.
He came across an upset man and an aunty who were pointing and saying "my boys, my boys".
"I jumped on top of the bike and could see a hand up in the water so I stripped down to my jocks and jumped in," Mr Oswald said earlier this year.
"The closest kid was about 40m out and it was quite a rough sea. At that point, I'd only seen the two kids and didn't realise their uncle was in the water as well. The three of us [two relatives of the boys had also arrived at the beach] headed into the water, we got to the first kid, gave him a life jacket and strapped him in it. The other two were behind me and got to the other boy. The kid I was with kept saying 'my uncle, my uncle' - that's when I realised there was a man out there."
Mr Oswald said the man was "pretty much face-up" and wasn't in a good way.
"I handed the kid over to the other two. I basically just went out to the other man who was in a state, he wasn't responding to me at all."
It took Mr Oswald 15 minutes to reach the beach with his patient. By this time the swimmers had been in the water for 40 minutes.
As well as being a Bay of Plenty Steamer from 1986 to 1997, Mr Oswald has been involved in surf lifesaving since childhood.
At the medal presentation Mr Oswald did not mention the January incident after being formally congratulated by Whakatane Mayor Tony Bonne.
He simply said he was privileged to be a part of the New Zealand Police force and that his colleagues were great before thanking everyone for coming.
Bay of Plenty police District Commander Superintendent Glen Dunbier said he had some of the best police staff in the country working in the Bay of Plenty district and he was very proud of them.
For more articles from this region, go to Rotorua Daily Post