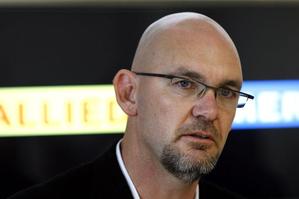 Allied Farmers chief executive Rob Alloway. Photo / Dean Purcell.
NZX boss Mark Weldon has made two important concessions in the wake of this afternoon's confirmation by the Business Herald that the Securities Commission will investigate trading in Allied Farmers shares.
The NZX is facing allegations that an email notice confirming its intentions to its Data Customer subscribers effectively paved the way for 'in the know' institutions to advantage themselves at the expense of 'mums and dads' shareholder.
Weldon conceded that the NZX's subsequent about-face could have read by the market as a "negative" for Allied Farmers.
He also conceded that the NZX's decision-making on the inclusion of Allied Farmers in the NZX top 50 index "could have been done better."
But when it came to the crunch issue of whether or not the market was fully informed, Weldon was blunt: "The insider trading stuff that people are referring to ...
for some reason they don't seem to have read things."
Those things are NZX's consistent defence that its subscriber-paid data services are simply in line with such services elsewhere.
It's good news that the Securities Commission is about to get off its butt and issue a 'Please Explain' to NZX boss Mark Weldon over why the stock exchange is operating a two-tiered information regime which allows big players to make a killing at the expense of 'mums and dads' shareholders.
The commission's move comes in the wake of controversy over trading in Allied Farmers shares last week.
Early this morning when I called the NZX's regulatory arm - NZR - I was given the run around.
But by 2.36 pm today the commission's spokesperson Roger Marwick confirmed NZR was to ask the commission to intervene.
About time too.
Allied Farmers chief executive Rob Alloway believes that the NZX-50 tip-off is the sole reason why his company's share price spiraled up by 23 per cent by Thursday as 'in the know' investors climbed into the stock; then slumped 11 per cent on Friday after the NZX rescinded the move.
The NZX is now asking Allied shareholders to take at face value its latest explanation for Friday's about-face.
But it is not credible for the NZX to simply say that Allied's short trading history (since taking on the failed Hanover Finance's non-toxic assets) is the reason for why it's now being excluded from the top 50 stocks.
The reasoning in the latest NZX presser was telling. It said the NZX had resolved that longer trading period - via a quarterly rather than a monthly index review - was the appropriate timing for reconsideration over Allied's inclusion in the index .
This will ensure that all investors have sufficient time to consider the performance of the stock under its new corporate structure before an index inclusion.
Frankly, this decision ought to have been taken before last Monday's move.
"Here we have the New Zealand market operator disseminating information which will have material influence on a stock to a select few people," Alloway told BusinessWire this afernoon. "That's the biggest issue I've got."
Allied Farmers would be seeking initial legal advice on the issue this afternoon, he told Businesswire.
Alloway is right to retains suspicion that his company's shares were subject to 'in the know' dealing.
But there is a further issue at stake here.
The Top 50 inclusion would obviously have boosted Allied Farmers' credibility. It would also have boosted confidence among former Hanover Finance investors that the much-promised exit path would open up.
Some will wonder if there are now concerns that Hanover's non-toxic assets might have a tinge of poison about them. They will wonder if the Allied deal will provide a realistic mechanism for them to some return on their Hanover 'duds' as promised late last year.
The NZX's about-face creates a credibility gap for Allied - something it doesn't need at this point in its history.