Grant Allen discovers there is much to learn from the highly organised Julie Biuso as she cooks in his kitchen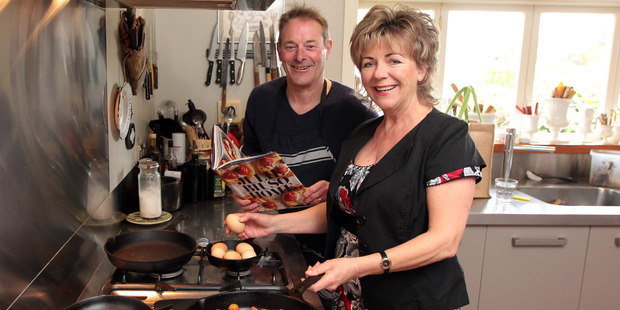 Julie Biuso is hardly at home these days, she's buzzing all over the country promoting her new book, Julie Biuso at Home.
She popped into my kitchen to cook up a few dishes, having just got back from Wellington, where she cooked a dinner with Martin Bosley at his eponymous restaurant, after a cooking demonstration at Moore Wilson's. Next stop for her was Christchurch to cook with Jonny Schwass and take some cooking classes in Akaroa.
Having said that I don't think too much would faze Julie Biuso. Her background as a food editor for various magazines over the past 30 years, as well as roles as a teacher, food ambassador and writer, and with this, her 15th book, indicates a highly organised woman.
Julie arrived with the dishes ready to go. Our last minute cook-off had our shoot over lickety-split. It gave us time to have a good gossip afterwards. Julie trained and taught at Le Cordon Bleu but one of the biggest influences on her food has probably been her Italian husband Remo and his family.
Italian style and flavours run through her repertoire, as does this country's notion of putting the freshest of food on the table and, if possible, producing it yourself. Julie and Remo grow their own vegetables, trying to get their share of the crop before their free-ranging hens help themselves. This Good Life scenario provides the background and ingredients for the classes Julie teaches at her home. Home is where the heart is, and the kitchen is the hub. It's cooking for her family that has inspired Julie's latest book, cooking good, honest food from scratch, covering off the requirements of the day and the rhythm of the seasons. Breakfasts, simple mid-week meals, snacks, home baking and more sophisticated offers have been crisply photographed by Aaron McLean. It's a big book (weighing 1.5kg) and as a bonus to its recipes, it contains a great glossary of kitchen tips, pantry basics and ingredient notes.
If your kitchen approach and food style is like Julie's, making clean bright food, judiciously introducing new ingredients and keeping time in mind, then this book is for you.
If your cooking approach is complex, then you definitely need to learn from this book.
Simplify your life, allow yourself more time at the table sharing with family and friends, because in the end as the Italians well know, this is what good food is all about.
It was a light, early summer morning when Julie came over to share some of her recipes.
The food she made was perfectly pitched to the day. It felt good to be in the kitchen and even better to enjoy the results. I can thoroughly recommend you try them all.


Recipes
• Roasted red pepper tart
• Fresh tuna salad with tomato, red onion and char-grilled red pepper
• Deep-fried paneer with golden raisins
• Tunisian eggs with tomatoes, harissa and red peppers