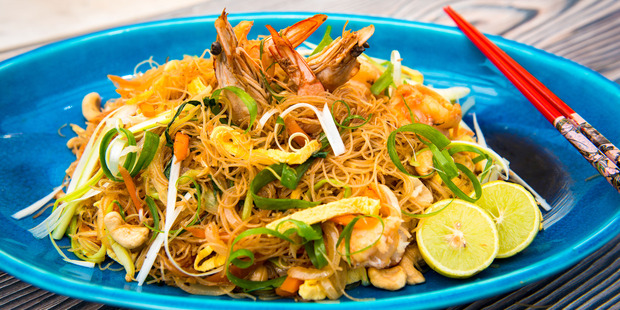 Serves 6
• De-veined and shelled raw prawns
• 1 packet rice noodles soaked in cold water for 30 minutes
• 2 carrots, julienned
• 1 bok choy, julienned
• 1 onion, sliced
• 2 cloves garlic, minced
• 4 tbsp vegetable oil
• 2 eggs
• 2 tbsp oyster sauce
• 2 tbsp soy sauce
• 1 tsp sesame oil
• 2 tbsp Shao Xing rice wine
• 2 tsp sugar
• Dash of pepper
• cashew nuts for garnish
• spring onion sliced for garnish


1. Mix eggs in a bowl. In a hot skillet, add 2 tbsp of oil. Pour in eggs and cook into an omelette. Remove from heat and slice into long strands, ready as a garnish.
2. Heat the skillet again to a high heat. Once hot, add in the prawns and stir fry quickly for 1 minute. Add Shao Xing wine and cook for a further minute.Set aside.
3. Heat 2 tbsp of oil in a wok, add garlic and ginger and cook for 30 seconds. Add in the carrots, bok choy, onions and drained, rehydrated noodles.
Cook for 3 minutes, tossing regularly. Add oyster sauce, soy sauce, sugar, pepper and mix well. Cook for a further 2 to 3 minutes.
4. Toss in the shrimps and mix well. Serve on a platter and top with cashew nuts, strips of egg and spring onions. Serve with a wedge of lime for added zing.