Easy to make and tasty too, these one-pot dishes make light work of weeknight cooking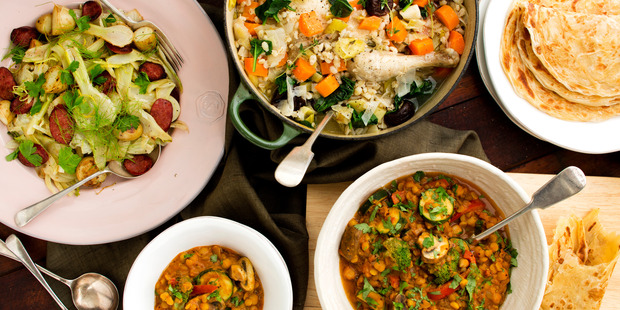 I love meals that are cooked in one dish. First, because they allow all the flavours to combine to create a tasty, no-fuss meal, and second, because it keep the kitchen bench clean and dishes minimal. Plus there's something quite challenging, and satisfying, about keeping yourself to just one pot, fry pan or casserole dish.
I was raised on a farm, so mutton was the main staple of slow-cooked casseroles.
These were often made the day before, left overnight so the layer of fat could cool and be removed, then gently reheated. The meat would just melt in your mouth.
One-pot meals are perfect midweek food, be it a curry, casserole, bubble and squeak, a stir-fry or hearty soup. As the main cook in the family, I love getting all the preparation over with early, then returning to the kitchen to find the meal cooked and ready to serve. This is also wonderful if you have guests and want to spend less time in the kitchen. Just sit down with a glass of wine and wait as the house slowly fills with a delicious aroma.
If it's a stir-fry you're making, have the children help chop, slice and dice. Mix with their favourite flavours and within minutes they will be eating their creation.
Today's Cock-a-Leekie is an old-fashioned Scottish soup-stew dish that has survived the test of time to still be popular in the modern kitchen. Traditionally, it was made with a good-quality chicken stock and leeks, and adding chicken meat would have been a luxury.
This could be served as two courses - first the broth and vegetables, followed by the chicken with homemade bread. I've placed a whole chicken in a large pot with vegetables to simmer slowly, thus creating wonderfully tender meat. The meat is then shredded and the vegetables chopped to serve. A little bit of optional decadence can be added with wine, pearl barley, prunes and some sprigs of thyme from the garden. I'm not sure if the purist Scots out there would approve, but this is delicious.
Fennel happens to be one of my favourite vegetables at the moment. Shred it into a salad, add it to a quiche with gruyere or, as I've done here, fry it in olive olive oil.
Add potatoes for substance, chorizo for a spicy bite and lemon to bring all the flavours together. If you cut your fennel ahead of time, place it into a bowl with lemon and water to stop it from discolouring. This works for cooked potatoes, too.
Dhal is a favourite for dinner in our house when we've all had a long day and crave something warm and spicy. It's all hands on deck as the onion and garlic are chopped and spices are added, and by the time someone has taken the dog for a walk around the block, dinner's ready. Be sure to add plenty of chopped coriander and serve with either homemade or store-brought naan or roti.
Most people find themselves cooking the same dishes over and over again - we all do, it's easy and not too much thought is required, especially during the week.
Instead, try some simple one-pot meals and surprise your family with something a little different.

Recipes
• Cock-a-leekie
• Fried chorizo, fennel and potato
• Mixed vegetable dahl

For more of Angela Casley's fabulous recipes, visit foodhub.co.nz
- VIVA