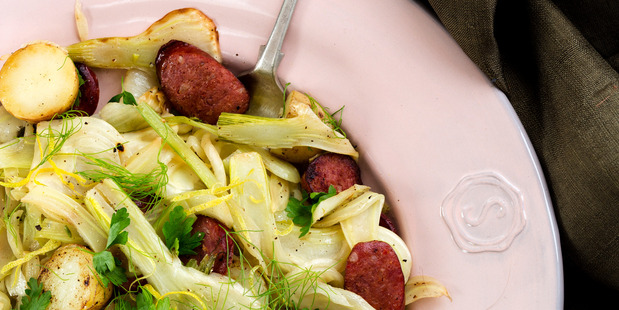 Serves 4
• 3 Tbsp olive oil
• 2 chorizo, sliced on a diagonal
• 2 bulbs fennel, slice thinly lengthways
• 1 onion, sliced thinly
• 4 cloves garlic, sliced
• 200g potatoes, parboiled and cut into small pieces
• zest and juice of 1 lemon
• ¼ cup chopped Italian parsley

1. In a large frying pan heat 1 Tbsp oil to a medium heat, then add the chorizo and cook for 1-2 minutes until slightly brown. Remove from the pan.
2. Add the rest of the oil, and the fennel, onions and garlic, and fry for 5-8 minutes until softened. Add the potatoes and chorizo. Cook slowly, turning gently for about 5 minutes. Add the lemon.
3. Sprinkle with chopped parsley and serve.
- VIVA