Grant Allen gathers guests to blind taste a sample of EVOs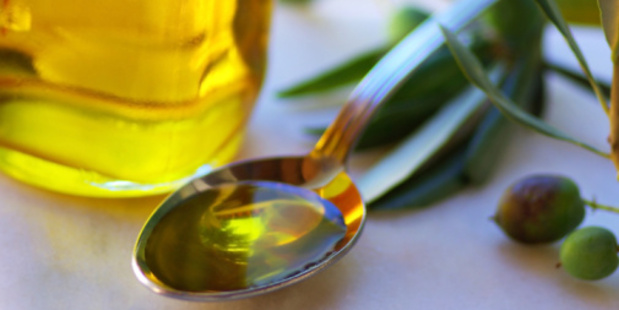 This story begins about this time last year when I was in Adelaide at Tasting Australia. As well as meeting one of my food heroines, Maggie Beer, we were treated like royalty and given the opportunity to experience the many delights of this fabulous food and wine region.
The Coriole Vineyard in McLaren Vale produces wine, olive oils, vinegars and verjuice. Owner Mark Lloyd took us through an olive oil tasting, a first for me.
It was fascinating. I was made aware of the great variation between different olive varieties (flavour and colour), the qualities required for an olive oil to be deemed extra virgin, a history of olive oil production in Australia and how the industry regulates itself.
Also last year, Consumer magazine did a comparative taste test of olive oils on sale in New Zealand, with some rather startling results. Various oils bought off the shelf, labelled extra virgin, did not meet the criteria. Oils were found to be rancid, many had no production dates on their labels, and on it went.
Olive oil is a living product and must be treated with respect. Heat (supermarket lighting, warm places) and light (clear glass bottles) will deteriorate the product, and while being okay at point of production the oil may suffer if it is displayed or stored incorrectly.
I decided to check out some common oils, all easily available. My panel comprised Rachael Speedy, an olive oil distributor at NZ Premium Foods, Aldo di Cesare from Art of Produce, a man with a fine Italian palate and, Volker Marecek, executive chef at Langham Hotel. They sat out in my garden and blind-tasted the oils (with a slice of apple to clear the palate between tastes).
The taste test
I bought nine extra virgin olive oils from retail shelves the day before the test and stored them in a dark, cool place overnight.
I opened each bottle half an hour before the tasting, decanting some of each oil into a glass bottle.
The tasters had no idea of the brands they were tasting; I used only numbers to identify them. Each oil was tasted by each panelist, they conferred and had to reach a consensus before recording their collective result. Some oils had to be tasted several times before agreement was reached.
The results
Extra Virgin Olive Oil (EVO) must exhibit the characteristics of an EVO to be so deemed.
One fault and it can not be classified as such.
It needs to be used within two years of production. Labelling should include press date, bottling date and batch number. It should also include a production date, and a best before or use by date .
The bottle should be dark in colour.
In Italy, oil will be described as New Season, Old Season and Third Season, distinguishing the just-pressed from that made in the previous two years.
These are our experts' assessments.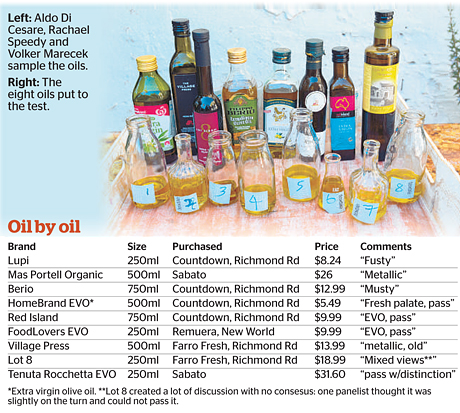 Dress it up
Many of my good cook friends have jars of bought mayo and vinaigrette in their fridges.
So do I, although I don't buy ready-made salad dressings. Instead, I like to splash some oil directly on the ingredients I have mixed together for the salad, sharpen it up with a bit of lemon juice, salt and pepper and toss it all about.
You can ring the changes with different oils - olive, avocado, nut oils or flavoured oils.
Making your own mayo or vinaigrette gives you a lot of creative options.
Apart from the different flavours found in different oils, there are numerous types of vinegar to choose from to add the sharp acidic notes. Think balsamic, tarragon, red wine, raspberry, sherry, Champagne or your own infused vinegars.
You can also incorporate garlic, fresh snipped herbs, finely zested citrus skin or mustards.
Here are the two classic recipes - it's over to you to give them your signature:
• Classic mayonnaise
• Classic vinaigrette