Address:
190 Stoddard Rd, Mt Roskill
Phone:
(09) 620 5599
Rating:
4/5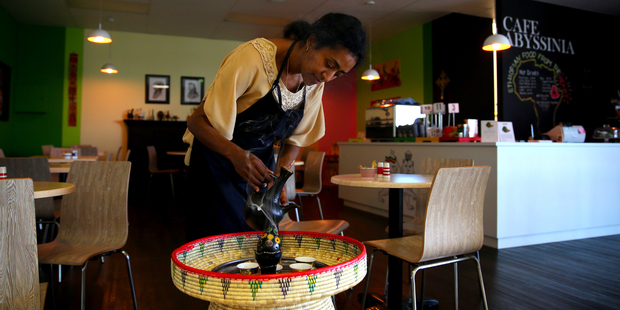 Immigrants from African countries, in particular from the Horn of Africa, have proliferated in Auckland's inner southwest in recent years. So it puzzles me that restaurants offering their cuisines to adventurous non-African diners, and indeed each other, have not appeared in the same profusion.
I'd hazard a guess that it's because eating at home with the family is more deeply embedded in their culture than eating out is. But it's striking that the parts of town where foreign tongues and the scent of spices fill the air, are full of Indian restaurants, not African ones.
Google "African restaurants Auckland" and the results are limited to an East Coast Bays barbecue place with (precious few) South African touches; an Algerian place long closed; and downtown's Botswana Butchery, whose menu includes the words Emmental, Szechuan, kalamata and risotto, but doesn't even mention boerewors; the only African word is the restaurant's name.
So it was with keen anticipation that I approached this Ethiopian place in the triangle formed by Richardson and Stoddard Rds. It's a great part of town, where shop windows blaze with gaudy fabrics; the posters on the beauty parlour windows feature stars of Bolliwood, not Hollywood; and on Fridays, the streets are full of white-clothed men heading to the mosque for prayers. I once found a butcher selling lamb pieces (bone in, for curry) for $3 a kilo and wandered round a grocery store where scarcely a single label was known to me.
Cafe Abyssinia is down the far end of an antiseptic arcade of shops called the Tulja Centre. You would be advised to book: there weren't many tables occupied when we arrived, but by 7pm the place was heaving with happy diners, including a group that describes itself as the Frugal Few and searches out cheap eats for a weekly get-together. The staff at adjoining (and empty) Indian restaurants gazed wistfully at the pandemonium.
It's not hard to see why: this is food of uncompromising authenticity, with tastes sharp and rich that will reawaken your taste buds. It is also, not incidentally, almost absurdly cheap: four of us paid $79 to try pretty much everything on the menu (they "don't really do desserts", the waitress said, but there were some muffins in a cabinet).
The base - literally and figuratively - of an Ethiopian meal is enjera, a slightly spongy sourdough yeasted flatbread. The flour is traditionally made from teff, a grass endemic to the Ethiopian highlands but impossible to get here, so wheat flour is used instead.
The warm bread which, slightly disturbingly, looks a bit like tripe, serves as accompaniment and eating utensil. By that I mean that there are no knives and forks on these tables. I imagine they would produce a set if you really insisted but you would miss out on discovering (or being reminded) that food eaten with the fingers always tastes the sweetest.
Co-owner Bebeta Asfaw was alone in the kitchen on the night we went and we waited more than 40 minutes for our food, although I got the distinct impression that this was standard practice because there are no short cuts being taken in the kitchen.
What arrived at the table was a large platter spread with enjera (there was another bowl of the bread on the side) on to which our enthusiastically informative waitress spread our selection of foods.
These included a stew - the local name is wot or wat - in which chicken, marinated in lime juice, had been simmered in a sauce that is the essence of the dish: its zing comes from a powdered spice called berbere, which mixes chilli, garlic, ginger and fenugreek with things I've never heard of such as korarima, rue and ajwain.
Tibs was lamb sauteed with herbed butter; kitfo is chopped beef served tartare style (it can be cooked if you're not partial to the raw version); and menchit abish, a slowly stewed dish of ground beef with ginger and cardamom.
I missed something built around fish (though there is a mild prawn concoction) and the vegetarian option, which we also chose, seemed more like a garnish than a decent feed though this may change according to the time of year: I read that the Ethiopian Orthodox Church prescribes vegan regimes during Lent for example.
But this is an excellent night out, cheap as chips and guaranteed to broaden your eating horizons.
Verdict: Reawakens the taste buds.