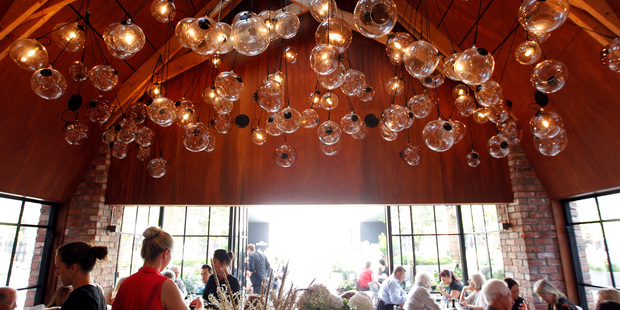 An ortolan is a bird. It weighs a mere 25g, but eating it is regarded as a peak experience for gastronomes and gourmands. The poor wee things (vegetarians should look away now) are captured alive, force-fed until they are two or three times their normal size, drowned in brandy, plucked and roasted before being eaten, bones and all, preferably in a single bite.
Diners drape their heads with a linen napkin. It has been suggested that this is to hide their act from God. Unabashed, Anthony Bourdain enthused in his book Medium Raw about the "scalding hot rush of burning fat and guts down my throat".
There is no bloated, brandy-soaked birdie on the menu at Ortolana. Indeed, it is safe to say that here is not a single scalding hot rush of burning fat and guts to be found.
Ortolana is the Italian word for gardener (the ortolan was so named because it frequents gardens) and proprietors Scott Brown and Jackie Grant of the Hip Group (half a dozen places from Cafe on Kohi to St Heliers Bay Bistro) named their new Britomart eatery to reflect their passion for farm-to-plate dining.
A section at the bottom of the menu headed "From our farm" (15 items on the night we ate there) records what has come in from Grant and Brown's garden at Kumeu.
They take it seriously: we missed out on the roasted pear because they had used all their early season fruit and they weren't about to betray their principles by buying in more.
But what we did get more than made up for it. The place has only just opened but it's already a peak experience.
Ortolan is housed in the new buildings, called the Pavilions, which are mainly high-end retail, and have regrettably erased some of the attractive heritage look that pioneer businesses had so carefully preserved. Still, imaginative and colourful planting, including extravagant colour and hanging fairy lights, have made the best of the space, about half of which is outdoors - just the ticket in this long, hot summer.
If you have eaten at other Hip Group places, the bright, clean tastes of executive chef Jo Pearson's food will be familiar to you, though the menu is all new. From the first moment - tap water made faintly sparkling with a SodaStream machine and the excellent olive oil provided as a condiment - the team turned it on.
The menu, which will have doubtless changed by the time you read this, was perfectly matched to the warm evening.
This was a meal that would satisfy the main rule of eating laid down by Michael Pollan in the excellent The Omnivore's Dilemma: "Eat food," he urged, "not too much; mostly plants".
Better, many dishes offered a slight, smart twist on familiar standards: bruschetta was replaced by piadina, a unyeasted flatbread popular in Bologna, which encloses a variety of fillings (ours was the roasted zucchini, pinenuts and parmesan) and the crayfish was treated like food, not a sacrament, and served as a simple salad with cucumber and creamy lemon mayo.
This is not to say there's nothing there for a meat-and-potatoes kind of appetite: there's rib-eye beef and lamb and a chicken cutlet, and you can get your spuds on the side roasted in herbed bacon fat. But the meats come with inventive accompaniments: green lentil and grapes for the lamb; fried green tomatoes with the beef.
We tried neither of those, but exulted in a "gypsy salad" of summer greens with a creamy garlicky dressing, a terrific carpaccio of kingfish (with tiny cubes of red onion and cucumber, an agreeable hint of chilli, and a tomato vinaigrette); and lasagnotte, which turned out to be a single long, wide ribbon sheet of the handmade pasta laid across a warm salad of beetroot roasted with cumin, feta and hazelnuts. Superb.
The Professor's favourite part was the adjacent Milse, a kind of dessert factory shop where you can watch patissier Brian Campbell and his team at work and order dessert from the cabinet. The gelato on a stick (there's a jelly tip option) has the flavour of a Kiwi classic in the making.
The service is spot-on, attentive and friendly, and the wine list has something for all palates. I can't wait to see what they cook up in the depths of winter, but for now, this is the taste of summer in the city.
Verdict: Predictably sublime