Each week, Wendyl Nissen takes a packaged food item and decodes its content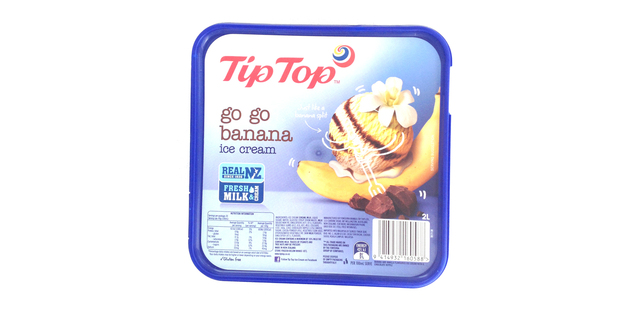 Tip Top Go Go Banana Ice Cream - $6.99 for 2 litres
It doesn't get more Kiwi than a banana split on a hot summer's day. Traditionally, the banana split from my childhood involved a banana cut in two then topped with ice cream, chocolate sauce and a bit of whipped cream and chopped nuts if you were lucky.
So when I saw this ice cream in the supermarket freezer and read "Just like a banana split" on the label next to a picture of some yellow and brown ice cream sitting on an unpeeled banana, the first thought that entered my head was, "Really?"
I would like to think that there was a banana ice cream which used real bananas, so the picture of one on the front gave me a slim window of hope.

Ingredients
• Ice cream - Cream, milk, liquid sugar, water, glucose syrup (from maize), non-fat milk solids. These ingredients are fairly standard for ice cream. If you made it yourself you would need cream, milk, sugar and water.
• Emulsifiers (477, 471) - These are propylene glycol mono and di-esters (477) and mono and di glycerides of fatty acids (471), which are fairly common and safe.
• Flavours - The word "flavours" sets off alarm bells for me. These will be artificial as the word "natural" isn't used and will be in there to create an ice cream which tastes like banana. To do this, chemicals are used to make your tongue think you're tasting banana when obviously you are not. My daughter insists that she likes the artificial banana flavour but I would rather she ate a real banana.
• Vegetable gums (412, 410, 407, 401) - Next come the vegetable gums - all four of them - which are guar gum (412) and locust bean gum (410). Both are naturally derived and used in here to stabilise the ice cream.
The next ingredient is carrageenan (407), which is a gel extracted from seaweed.
But as natural as that sounds, there are concerns from healthy eaters that it is an intestinal irritant and the joint Food and Agriculture Organisation and World Health Organisation expert committee on food additives advises it be kept out of infant formulas.
The final emulsifier is sodium alginate (401), which is a salt extracted from brown algae.
• Colours (102, 160a, 124) - The first is tartrazine (102), an artificial ingredient which gives this ice cream its yellow colour. Its use in foods so concerned Britain's Food Standards Agency that the manufacturers were asked to voluntarily phase out the use of it in foods, which has happened.
Since July 2010, the EU has made it mandatory for any foods still containing this colour to provide a warning label which says that it "may have effects on activity and attention in children".
The second colour is a natural one called carotene, which is orange-yellow and quite safe.
The third is Ponceau 4R (124), a red colour included in the British phase-out. It must use the same warning label as for tartrazine.
• Chocolate Ripple (13 per cent) - Water, sugar, cocoa powder (4 per cent), vegetable gum (466) Hydrogenated vegetable fat, skim-milk powder, emulsifier (471), flavour.
This is the dark chocolate substance which is mixed into the ice cream.
It contains only 4 per cent chocolate, which means most of the flavour relies on artificial ingredients.
It also contains the emulsifier mono and diglycerides of fatty acids (471), which is a common and safe emulsifier, and the vegetable gum sodium carboxy-methyl-cellulose (466), which is extracted from algae.

My recommendations
"Just like a banana split." No. In fact, it couldn't be further from a banana split because there is no banana in this ice cream. Instead there is artificial banana flavour, and also some artificial chocolate flavour.
There are also two artificial colours which have been voluntarily phased out in Britain and must carry a warning label if used in the European Union.
Encourage your children to associate the banana flavour with a real banana. Peel a banana, slice in half lengthwise, top with plain ice cream (the best you can afford with the least ingredients listed), and your own chocolate sauce.
Just mix 2tbs cornflour with cup cocoa in a saucepan with enough cold water to make a smooth paste. Stir in 1 cup of hot water, cup caster sugar and 25g butter. Stir over medium heat until the sauce boils and thickens (about 8 minutes). Add 1tsp of natural vanilla essence and stir. (Recipe courtesy of Chelsea Sugar).
If you top with some crushed nuts you now have a very nutritious dessert minus the additives, artificial flavours and colours.

Highlights
• Not "just like a banana split" as advertised on the label.
• Contains two artificial colours which must be labelled in the European Union and have been voluntarily phased out in Britain
• Uses artificial flavours to mimic the taste of banana and chocolate.

Do you have a food product you would like to feature?
Email wendylwantstoknow@gmail.com with suggestions. Unfortunately, Wendyl cannot correspond with readers.
Read Wendyl's columns on other food products here.