Fast-food outlets and prepacked heat-and-eat meals abound in supermarkets but the DIY ethos is still strong in some New Zealand households. Dionne Christian talks to some home cooks for whom food is about creating rather than simply consuming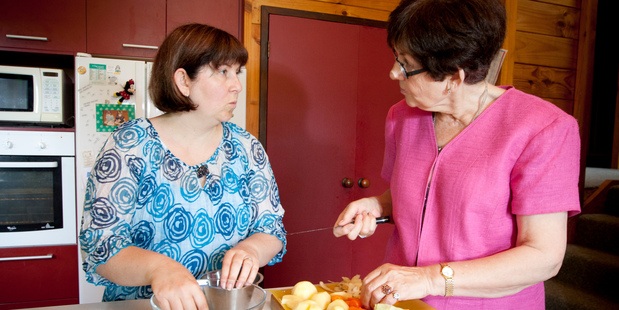 It takes a full day to make braised duck tagliatelle. It begins with browning duck marylands, lifting them carefully out of a flameproof casserole dish, draining off the fat and gently sauteing chopped onion, carrot, celery and garlic in the remaining fat. Tomato paste, two cups of dry red wine, one cup of chicken stock, herbs, orange rind and juice are added, the duck returned to the casserole dish and it is all cooked in a moderate oven for two hours.
You can do something else around the house while it's braising but you don't want to go too far, lest you miss the delectable aroma, particularly from the wine, infusing every room with a scent best described as comforting, rich and woody. The most appropriate way to use the time then is to cook the tagliatelle pasta.
Even when the duck is cooked, the meal still isn't ready. You've got to remove it from the casserole, skim as much fat as you can from the top and wait until the duck is cool enough to handle. Then you pull the meat from it, discard the skin and the bones and put the shredded meat back into sauce, re-heat and serve with the cooked pasta (boiled in plenty of salted water) and a salad.
This meal is good. No, it's superb, though there are times, as I'm struggling with ripping the meat from the duck that isn't really cool enough, or painstakingly chopping the vegetables, when I wonder why I'm doing it. Why go to such effort for dinner when there's a whole smorgasbord of ready-made and convenience products at the local supermarket or a plethora of fast-food outlets where I could eat my way around the globe?
Okay, so I don't do braised duck tagliatelle every night. Far from it. But most nights I put on the table a meal pretty much cooked from scratch. I bake every Sunday; I like making my own stocks as base for soups, stews and casseroles when time allows, I relish the thought of spending summer days making plum jam from the fruit on our trees and a couple of months back I experimented with making boiled sweets (never again). But why do I - or any of the apparent legion of foodies out there - do it when there are easier and less time-consuming options?
Indeed why do any of us in this day and age bother to cook at all?
Maureen Christian - yes, she's my mum - is nearly 74 and cooks a meal for herself every night. Baked potatoes with smoked fish and prawns accompanied by green salad; pork steak with creamed parsnip and potato, and steamed asparagus and broccoli; roast eggplant and mushrooms with creamy polenta, grilled chicken and a basil sauce - they've all been on the menu for her recently.
Many others in Mum's position just eat toast - a real concern to nutritionists and geriatricians.
Mum reckons she can think of few things worse than eating heat-and-eat meals and bland food night after night. Brought up during World War II, when rationing was in full swing, she seeks out quality - not necessarily expensive - ingredients and variety when it comes to what she's eating. I guess there's nothing like going without to ensure you don't have to do so again.
She acknowledges cooking from scratch takes time but says she has plenty of that and wants to be able to indulge in one of her favourite pastimes for as long as she can. Cooking has been a joy to her for as long as she can remember, no doubt strongly influenced by her upbringing. Back then, she says, being able to do things yourself - to create rather than simply consume - was something to be proud of.
"I've never known a time when people round me weren't cooking," she says. "If they weren't doing it for their own families - because in those days you couldn't just go out and buy stuff - then my family, including my dad and uncles, were working in restaurants.
"Some of my earliest memories are of going to work with my grandmother, my mum and aunts, who all worked in the tearooms at a very large department store. Then I remember cooking with my dad, who would encourage me to watch what he did, then he started giving me a job or two to do and, before long, I was cooking the Sunday lunch for the family.
"I've always loved roasts and making pies. I liked knowing that I could make something from scratch because I wasn't artistic or musical and, I admit, I also liked the praise. I liked it when people said my food was nice and it's nice to do things for other people."
Which is exactly what Petrina Wu, a 44-year-old mother of three, found when she and husband Murray lived in the United States. The plan was to marry and move to the US, where both of them would work but Wu was unable to get a Green Card. So, as a stay-at-home wife in Savannah, Georgia, she did two things with her time: studied toward an MBA and learned to cook and bake.
"When I was growing up, Mum did the cooking and the only cooking I did was at Pakuranga Intermediate School, where we had lessons. I really didn't do anything at home unless Mum specifically asked, although she did encourage my sister and me to learn how to make some basic meals. I lived at home until I was 25, then I got married and we moved to the United States."
She says Murray was the better cook, so she'd call him at work and ask him how to make the evening meals. When the couple started a family, his mother would travel to the US for up to two months at a time to help with the babies (they have three children) and from her, Wu learned traditional Chinese dishes. She says there weren't many Chinese people, let alone restaurants, in the Deep South, so if they wanted comfort food from their own culture they had to make it themselves.
Wu also learned to bake. Recalling all she was taught at intermediate, she found "bringing a plate" to a function, to a new neighbour or to fellow students was a fantastic way to break the ice socially. She was surprised few people in the US seemed to bake from scratch, using cake mixes instead.
"People were just so appreciative and impressed I had made something completely from scratch which, let's face it, is a lot cheaper than buying something and tastes far nicer, too.
"I had a friend I met while doing my MBA and, quite frankly, ordinarily I don't think we would have met because her family was very wealthy. One day, I made her a lemon meringue pie, which she took home and shared with her husband. He liked it so much that he invited us out sailing on their boat, which we never would have done otherwise. We've been back in New Zealand since 2005, but we still keep in touch and I think it's largely down to that lemon meringue pie."
Nowadays, Wu, who works part-time, bakes for tradespeople working on the family property, her neighbours, her kids' teachers, music instructors and dance coaches, for official school functions and at Christmas and on birthdays for her colleagues. She says it's a creative outlet and allows her to do something that brings pleasure to others.
"I think back to those intermediate school cooking classes and I think if it hadn't been for them, I wouldn't have known anything. I'm pretty much entirely self-taught and I have tried to pass those skills on to my kids, but I suspect they are a little bit like me and just think: 'Mum will do it'."

What we cook - and how - may have changed, influenced by the availability of new foods and ingredients, technology, fashion, economics and international influences - not to mention the advent of the "celebrity chef". New Zealand academics have been at the forefront of research that considers what changes in basic recipes can tell us about different eras.
Helen Leach and Raelene Inglis of the University of Otago studied Christmas cake recipes and, after looking at 383 from 158 community cookbooks, concluded these could well be the culinary equivalent to a ceramic pot excavated by archaeologists. They are highly sensitive to and mirror diverse and changing economic, cultural and social conditions. Not to mention taste, with the cakes becoming more intensely flavoured over time.
But the "why" of cooking, particularly for a group, seems to have remained remarkably similar. Independent historian and food writer Andre Taber says cooking is creative and people cook to experience the satisfaction of making something that provides pleasure for others.
"It's an artistic pursuit, but it can also be scientific so it appeals to a wide range of people. Those who consider themselves creative might not believe they're particularly adept at science and vice versa, yet cooking brings the two disciplines together."
Taber, who also works as a researcher for TV One's The Food Truck, says food - its preparation and consumption - is a way of bringing people together. It's social and, having reviewed the comments made by those interviewed by Canvas, he says that sentiment comes strongly through.
"Our world is still very much structured around an annual seasonal cycle of feasts that have ancient roots. When people come together, we naturally assume there will be food. I suppose, being the one who prepares that food, time-consuming as it may be, puts you in a positive and responsible position of being able to provide for others, to nurture and to take care of your family and wider community."
So there may be a certain status to being able to cook and that may be further reinforced by the contemporary do it yourself ethic fuelled by recession.
Like those who have picked up garden trowels and spades to grow their food, home cooks have long known it's often cheaper and healthier to cook from scratch. The same factors that saw the home garden boom blossom are thought to be behind baking's recent comeback.

Having control over what his children are eating is what motivates Darren Rudd to cook.
Formerly the owner of a fine dining restaurant, the 40-year-old father of two young daughters is a self-taught chef who now works from home as a candlemaker. With large chunks of his day spent waiting for wax pots to boil and newly poured candles to set, he has time to make most things from scratch. That includes pasta, pizzas, certain cheeses, biscuits and even icecream.
It has nothing to with availability or necessity, rather it is because he likes to know what his family is eating.
"Next time you're in the shower, grab the shampoo and read the ingredients on the label. Then ask yourself, 'why am I putting this on my head?' It's the same with cooking and food. Read the ingredients on the pre-packaged meals such as pies, biscuits and icecream. I mean, have you ever wondered how bread stays soft and fresh for close to a week?
"I bake every three days a few batches of biscuits for the kids' lunches. Yes, I could buy them from the supermarket, but read those additives in them. As a general rule, if you can't pronounce the word, don't buy it."
Rudd says he can now make fresh pasta as quickly as the packet stuff takes to boil, although he acknowledges having a pasta machine to roll pasta dough into fettuccine is a must. Similarly, he prefers making bread in a breadmaker.
"And it's so much cheaper," he says. "Four ingredients make two loaves of ciabatta for probably under $2."
He says the family has made a conscious choice about where they'd rather spend money and there isn't any contest between a multinational conglomerate and local producers who care about what they do.
"My motto is to shop for fresh local ingredients: fruit, eggs and meat. Remember the days of the butcher? They are hard to find now, but when you find one locally the quality of the cut is second-to-none."
Rudd says his DIY ethic isn't about time; rather, it's about being well organised and making a lifestyle choice to prioritise eating well. Yes, it would be easy to whiz down to a local pizza parlour and order three pizzas for under $20.
"But after scoffing those down, how does your stomach feel? What is your waistline doing? You can make a pizza with four simple ingredients. I cook our pizza on a pizza stone in the oven. Six minutes and it's done. It's about being organised and enjoying real food with real ingredients."