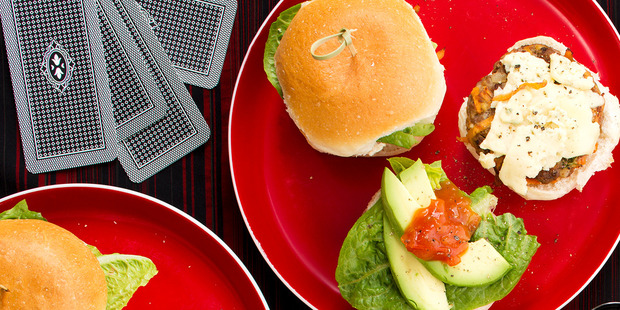 Makes 6
2 tsp coriander seeds
1 tsp cumin seeds
1 Tbsp olive oil, plus extra to fry the burgers
2 cloves garlic, minced
1 small onion, finely diced
600g prime beef mince
2 tsp rosemary, finely chopped
1 small carrot, grated
1 Tbs English mustard
1 egg
1/4 cup breadcrumbs
Salt and freshly ground black pepper
6 dinner rolls
Blue cheese
1 avocado
Cos lettuce
Tomato relish or sauce
1 Heat a frypan and toast the seeds until fragrant then grind in a mortar and pestle.
2 Heat the olive oil and fry the garlic and onion until golden and soft.
3 Combine the seeds, onion, garlic, mince, rosemary, carrot, mustard, egg and breadcrumbs.
Season well then form into small patties.
4 Preheat the grill. Halve the dinner rolls and place on an oven tray. Top half with blue cheese.
5 Heat the frypan and add a tablespoon of olive oil. Fry the patties turning once for approximately 5 minutes, depending on the size. Lightly grill the rolls until golden and the cheese has melted.
6 Assemble with the lettuce, patties, slices of avocado and a spoonful of relish or sauce.