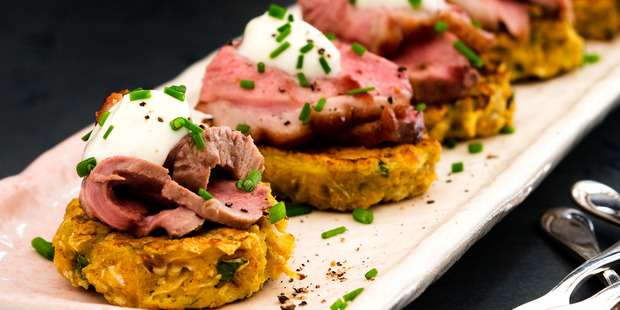 Serves 8
2 duck breasts
Salt and pepper
2 Tbs pomegranate molasses
Fritters
1 small cauliflower
60g chickpea flour
1 tsp cumin seeds, roasted
1 tsp turmeric, ground
1/2 tsp ginger, ground
1 tsp cardamom, ground
2 tsp salt
1/4 tsp chilli powder
1/4 cup coriander, chopped
1 egg, whisked
Vegetable oil for frying
Thick Greek-style yoghurt to serve
1 Preheat oven to 200C. Heat an ovenproof fry pan. Score the skin on the duck breasts. Season and place skin side down. Cook for 5 minutes.
2 Pour off the fat, then turn over and finish cooking in the oven for 10 minutes. Glaze the breasts with pomegranate molasses then return to the oven for a further 5 minutes. Let rest for 10 minutes before slicing.
3 To make the fritters: grate the cauliflower into a bowl. Add the other ingredients and mix well.
4 Form into small fritters. Heat a fry pan and pour in enough vegetable oil to just cover the surface. Fry the fritters in batches until golden brown. Transfer to paper towels, then arrange on a platter topped with sliced duck and a little yoghurt.