A high tea is the perfect stress-free mini-party.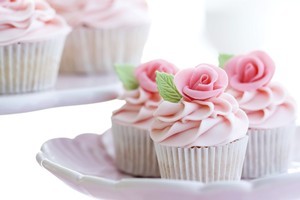 I'm always on the lookout for easy ideas for entertaining that don't involve me being stuck in the kitchen for the entire event. I'm a self confessed collect-a-holic, and love nothing more than scouring second hand and junk shops and the internet for interesting vintage buys, so it's no wonder I have been keen on the idea of using my pretty china and glass cake stands to entertain my lovely friends.
I recently road tested a Vintage High Tea, with a little help from Amanda from The Vintage Table, who hires out everything you could possibly need for this type of event, and Karla from Bluebells Cakery, an expert in all treats tiny and delectable.
Often reserved for special occasions, the English tradition of taking tea has recently become particularly fashionable. While the 7th Duchess of Bedford who was fond of having her butler deliver tea with sweet and savoury morsels to her sitting room around 4pm would possibly roll over in her grave if faced with our modern version, many of the traditions and much of the etiquette are still in play. Here are some tips from me to host a successful tea party just in time for Christmas.
Plan ahead. As with all social events, good planning is absolutely essential. An afternoon tea party is the perfect event for the hostess who may not be sufficiently confident or skilled in the kitchen to prepare a more complex menu, i.e. me. Get your invitations out early, and do not invite more guests than you can comfortably cope with - and I suggested my guests wear a pretty dress. Consider some assistance from professional caterers; don't be afraid to buy in a selection of fine treats from your local supplier - enter Karla.
Time management is critical for the perfect afternoon tea party. Do as much preparation ahead of time as possible but don't be tempted to make sandwiches more than an hour before serving, and ensure they stay fresh with a damp tea towel over the top. Ensure you have a plentiful supply of boiling water, and adequate stocks of good quality china, serving platters, teapots, cutlery, furniture and tablecloths. I have stocks, but not enough to cater for my 26 guests - enter Amanda. If you are planning an outdoor event, always be prepared for a change in weather and have a back-up plan.
The menu typically consists of a selection of dainty, bite-size sandwiches, scones with cream and jam, and a selection of traditional cakes and sweet treats served buffet style. Karla recommends 3-4 savoury items and 3 sweets per person, to ensure your guests have plenty to eat without appearing like they are over indulging. You can tailor the food to suit your event, think mini Christmas mince pies, Christmas pudding truffles, and Christmas cupcakes with brandy butter-cream.
Making tea. Choose two or perhaps three varieties; it is wise to stick with popular choices, and I chose bags over leaf tea for easy clean up. Use a china teapot in preference to metal as the latter can adversely affect the taste. Bring a kettle of fresh cold water almost to the boil, pour a little of the water to warm the teapot, and then discard. Add one bag per cup, plus one extra bag for the pot. Pour the near boiling water, and leave the tea to brew for three to five minutes depending on how strong you like it. Don't overfill the cup, and offer fresh milk or lemon, and sugar cubes for sweetening. Empty the teapot after about 15 minutes to avoid the tea becoming stewed.
You may also like to serve a jug of homemade iced tea as a refreshing alternative; my alternative was bubbly served in vintage cream bottles with a cute straw.
The table is the wow factor, so this was my department. My update on a tablecloth was to roll some pretty vintage style wallpaper down the centre of the table. Then I casually arranged towering tiers of pretty plates and cake stands in the centre. An easy idea is to layer plates getting smaller in diameter with small upside down bowls in-between to create your own tiered stand. I then laid out china trios supplied by The Vintage Table ensuring there was one for every guest, mixing up the patterns for a more modern, eclectic look. Fresh flowers are essential, and a very easy way to dress any event, I chose pretty roses, tulips and peonies, and mixed them up in jars and bottles on the table and around the room.
Proper etiquette is essential. Using both hands, always lift the teacup and the saucer at the same time and, contrary to popular belief, it really is not necessary to position your pinky finger out at an angle. Take small sips of tea and do not blow the top to cool it or slurp loudly. Use the tea plates provided for the placement of sandwiches and sweet treats; do not overfill your plate. Bite-size morsels are preferred, as they can be eaten without cutlery.
When leaving the party, always thank the hostess and remember to send a thank you note shortly afterwards.
Essential address book
* Vintage china and accessory hire from thevintagetable.co.nz or antiquealley.co.nz
* Delectable treats from Bluebellscakery.co.nz
* To hunt out your own vintage cakestands visit flotsamandjetsam.co.nz
* Flowers from rosesflorist.co.nz
* For fine tea see harneyteas.co.nz