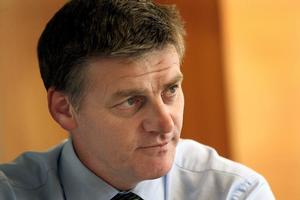 The Budget will take a more cheerful view of the near-term economic outlook than the half-year update last December, but not so much so as to significantly ease the budgetary challenge, Finance Minister Bill English indicated yesterday.
The December update forecast growth of 2.4 per cent over the year to March next year, but in the most recent consensus forecast compiled by NZIER, economists now expect growth of 3.1 per cent over that period and 3.2 per cent the year after.
"It's clear the economy is recovering slightly more strongly than the Treasury forecast in December," English said in a speech to the Wellington Chamber of Commerce.
But that improvement would not flow through to dramatic changes in the fiscal forecast.
"There may be slightly stronger revenue and slightly lower spending on income support, but nothing that significantly eases our medium-term fiscal pressures," he said.
"That means several more years of Budget deficits and increasing debt and certainly no dramatic reduction in the $240 million we need to borrow each week to roll over existing debt and fund ongoing deficits."
The December update forecast the Government's annual interest bill to more than double to nearly $6 billion by 2014 as net debt soared to $65 billion.
The economic recovery was quite patchy, English said.
"We are not yet seeing the traditionally strong bounce out of recession, where the exchange rate falls, primary producers start making profits and enjoying higher incomes, which eventually flows into the cities."
The global recovery remained fragile, the high exchange rate against the US dollar was hampering exporters and household finances were extended.
Even before the global financial crisis the economy had been in trouble.
"In the three years before the Lehman collapse in late 2008 the economy grew by less than 1 per cent a year - less than a third of Australia's growth rate. In per capita terms GDP dropped."
And what growth there was was in the wrong places - government and the property sector - while the export and import-competing industries went backwards.
"In fact overall the tradeables sector has not grown at all since 2002 and not created one net extra job. And in that time government spending has accelerated and New Zealand's indebtedness to the rest of the world has grown significantly."
But over the five years to 2009 government spending had grown 50 per cent and the property market soared - though it was now in a long-term correction, English said.
"It has absorbed too much of New Zealand's productive capital, for too little gain and at the cost of a large build-up of debt."
In light of those economic imbalances there was a compelling case for rebalancing the tax system to support the goal of tilting the economy towards saving, investment and exports and away from borrowing, consumption and property speculation.
Speaking to journalists after the speech English made it clear that a "broadly cost neutral" package of tax changes need not be absolutely neutral every year from the outset. It would be neutral over four or five years, he said.
English did not rule out a business tax cut in the May 20 Budget, although he indicated no decisions had been made.
"It's not off the table. We're looking at a number of issues around the taxation of business, including whether Australia moves on corporate tax because that would have a competitive impact on New Zealand, but that's not finalised," he said.
additional reporting: NZPA