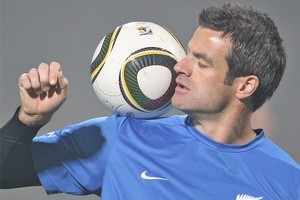 All Whites captain Ryan Nelsen has no intention of ending his international soccer career yet.
Blackburn Rovers manager Sam Allardyce last month urged Nelsen to retire from international football in an effort to prolong his English Premier League career.
The 33-year-old defender led an unbeaten New Zealand effort at the World Cup in South Africa earlier this year.
Nelsen yesterday told the Lancashire Telegraph that he will only end his international career if it starts to affect his form.
"I'd just like to finish it on my terms and when I feel that's being detrimental to Blackburn or vice versa, then I think it will be time to call it quits," he said.
Nelsen said he was feeling good at the moment, although he was well aware of the need to keep fit "because I'm not getting any younger".
"I'm still motivated to play so at the moment the time's not right. Maybe in six months, a year, two years, I don't know, that could be completely different."
Nelsen is facing increasing competition at club level for his place, and said he accepted he was consistently under pressure from players such as Phil Jones, Grant Hanley and Gael Givet.
"That's Sam's decision. Obviously he has to figure out what's best for Blackburn and I 100 per cent agree with him.
"If he feels that, that's something I have to live with."
- NZPA