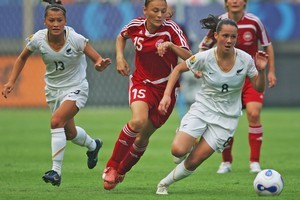 The New Zealand women's team today take the first step in their bid to follow their male counterparts on to soccer's biggest stage.
The highly fancied Football Ferns begin their defence of the Oceania Nations Cup in the tournament opener against Vanuatu at North Harbour's outer oval.
They will follow that game with pool matches against the Cook Islands (Friday) and Tahiti (Sunday) before semifinals a week today and the final two days later.
The Oceania champion will join 15 other nations at the June 26-July 17 World Cup in Germany next year.
Ranked 24th in the world, New Zealand are the only Oceania team on Fifa's official ranking list of 117 nations. The other seven Nations Cup teams are on Fifa's extended list of 168 countries but without an official ranking.
The Football Ferns are expected to cruise through and continue the bold showing by New Zealand teams on the international stage both at age group (men and women) and senior level.
Determined to give this tournament their best shot, New Zealand coach John Herdman has brought all of his four overseas-based professionals back.
Team captain Hayley Moorwood, recently signed by Chelsea, joined her teammates at Monday's first official training.
US-based defender and Oceania Player of the Year and the US league's Rookie of the Year, Ali Riley, arrived home yesterday after helping her Gold Pride team beat Philadelphia Independence 4-0 to win the weekend's Women's Professional Soccer League final. Moorwood and Riley were joined later in the day by Wolfsburg (Germany) defender Rebecca Smith.
Sweden-based midfielder Kirsty Yallop will miss today's opener but will be ready to play the Cook Islands on Friday.
Herdman is fully aware that his team should coast through but will be aware Papua New Guinea, who head pool B, held the Ferns to 2-0 en route to qualifying for the 2008 Beijing Olympics.
"Something like 130 countries entered the World Cup qualifiers. Countries like Denmark and Italy have already missed out so we know we can't afford any slip-ups," said Herdman. "There can be no room for complacency."
There has been much developmental work throughout Oceania in the four years since the last Nations Cup but it will, for the smaller nations, still be a bridge too far against a New Zealand team stacked with players who have cut their teeth with bold showings internationally at under-17 and under-20 and then Olympic level.
In selecting the majority of his team from the Tusker club, Vanuatu coach Richard Iwai has a small advantage but in stepping on to the senior stage for the first time he is well aware of the massive task facing his players, especially on defence as they try to cope with the threat posed by the goal-hungry New Zealand strikers.
In today's late game the Cook Islands face Tahiti.
OCEANIA NATIONS
Where: North Harbour Stadium.
When: Today until October 8.
Group A:New Zealand, Vanuatu, Cook Islands, Tahiti.
Group B: Papua New Guinea, Fiji, Solomon Islands, Tonga.