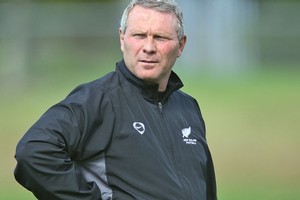 National coach Ricki Herbert is planning to take the New Zealand soccer team through to the 2014 World Cup in Brazil despite today being reappointed for just another two years.
Herbert and New Zealand Football (NZF) chairman Frank Van Hattum signed the contract at a press conference in Wellington, officially ending speculation about Herbert's future after he guided the All Whites to three draws at this year's World Cup in South Africa.
The term of the contract, which ends in August, 2012, means he stays at the helm of the All Whites through to the 2013 Confederations Cup qualifying campaign.
After that, there will be a "reassessment" by both parties, although Herbert, who in July signed a two-year extension as Wellington Phoenix coach, plans to remain with the national side until the end of the next World Cup campaign.
He has already submitted a draft four-year programme to NZF.
"I think it would be unfair not to look past the two years, albeit the contract says two," Herbert told NZPA.
"I think to get some certainty around the long-term future, no matter what decisions are made, is important.
"Hopefully the campaign can have a little more impact from day one and hopefully the public can see that, starting with the October matches against Honduras and Paraguay through to, hopefully, another playoff series."
Van Hattum said it was NZF's intention to re-sign Herbert after 2012.
"But both parties will be reassessing what the requirements of the role are in years three and four. Clearly we've got to look at all the requirements, his Phoenix commitments, and also what the job might entail leading into the World Cup.
Van Hattum said there was nothing sinister behind the delay of the reappointment despite a handshake agreement having been in place since New Zealand's World Cup involvement ended in June.
"It's just been a process of getting things to paper and working through the details, which is a commercial reality of life.
"The basic terms had been agreed and we haven't moved far away from it at all. Nobody should read anything into it."
Herbert added: "It was just a matter of getting some things over the line. Albeit it's taken this time, for me that hasn't been a problem. We've got to a position where both parties are extremely happy."
NZF has also entered into a formal arrangement with the Phoenix, who will release Herbert for all Fifa international match windows.
"In the past there has been some comment about how it could work, but it has worked," Van Hattum said.
"(Phoenix owner) Terry Serepisos, NZF and Ricki are all very comfortable about how it will work."
Herbert would not comment on whether his salary had increased markedly following the All Whites' World Cup exploits, but said he was "really pleased" with the contract.
Van Hattum said the salary reflected the "esteem NZF hold Ricki in and our ability to pay".
"Ricki has made no secret of the fact it's not solely about money, it's about his desire to take the team through to Brazil 2014."
Herbert was first appointed New Zealand coach in 2005.
- NZPA