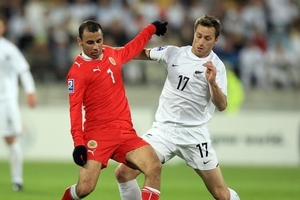 The first two World Cup All Whites have announced their retirements from all forms of football.
Midfielder Andy Barron, who played just four minutes in the 1-1 draw with Italy but became a figure of worldwide interest because he works in a bank, and back-up goalkeeper James Bannatyne have called it quits.
Bannatyne, 34, will play one more game for Petone next weekend so he can bring up 100 appearances for the club but won't play beyond that.
The futures of others are not so clear, especially veterans Ryan Nelsen, Simon Elliott, Ivan Vicelich and Mark Paston.
Elliott has said he wants to continue playing for the All Whites but is unemployed. The 36-year-old is trying to pick up a new contract after he was released by San Jose on the eve of the present American MLS season. He trained with one of his old teams, Los Angeles Galaxy, before the World Cup but hasn't secured a club since returning from South Africa - despite a handful of impressive performances in midfield.
Nelsen was non-committal after New Zealand's last game against Paraguay but, with no matches on the calendar and no prospect of meaningful games for at least 18 months, it's difficult to see the Blackburn skipper being heavily involved.
The 32-year-old didn't play for the national team for four years because of injury, club commitments and other issues before making a return in 2008 to play two World Cup qualifiers against New Caledonia.
Vicelich wants to continue to play for Auckland City and New Zealand "to see how it goes". He previously retired from international football in 2007 before answering an SOS from coach Ricki Herbert to play at last year's Confederations Cup.
Paston indicated he needed time to think about his international future after the World Cup but it wouldn't be a surprise to see the 33-year-old retire from internationals to concentrate on his club career with the Wellington Phoenix. He was linked with a handful of clubs, including Spurs and Arsenal, after impressive performances in South Africa but nothing has so far eventuated.
Barron and Bannatyne decided before travelling to South Africa that a World Cup would be the perfect way to end their careers.
"I just figure it doesn't get much bigger than the World Cup and I'm 30 this year and it's as good a time as any to go out," said Barron, who played 12 internationals since his debut against Malaysia in 2006. "That's all forms. I don't fancy trickling down [the grades], especially with the winters here [in Wellington]. It's not a lot of fun.
"I'm happy to spectate, maybe go into coaching, I don't know. There's nothing in the pipeline yet. I just plan to take it easy and do some of the things I haven't had time to do."
Some of that means paying back Westpac Bank, where he works as senior operations administrator overseeing a $1 billion portfolio. He took 10 weeks off last year for football and reckons his tally is approaching a similar figure already in 2010.
"I owe them," he admitted. "It's tough when you are working and playing. I literally had no time for anything else.
"I will work on my 9-5 and do some things in my own time as well and enjoy enjoy friends and family. Friends I have neglected for too long. I'm looking forward to it."
Bannatyne is looking forward to trying to improve his golf handicap, which sits about 10. He has played on since returning from South Africa but expects next week club game will be his last.
"I will play next weekend and that will be 100 games for Petone and I will probably hang up my boots," said Bannatyne, who played just three internationals despite making his debut against the Cook Islands in 2001.
"I won't be playing for Team Wellington or anyone else after that."
Bannatyne has 'retired' before but was convinced by Team Wellington coach Stu Jacobs 18 months ago to play again when they had a goalkeeping crisis. He was then recalled to the All Whites and the possibility of qualifying for a World Cup kept him going.
"When I helped Stu out, it wasn't with an eye on the World Cup but it opened the door. I was working towards that.
"It was cool to be a part of and a nice way to finish up."
Bannatyne had a warning to New Zealand Football, saying they need to schedule meaningful games soon or others might follow them.
"If they can provide meaningful games to keep things going, then people are more likely to be part of it," he said. "But if the All Whites go back on the shelf for two years and then play island nations, then, on that basis it's pretty hard for people to commit to a four-year programme."