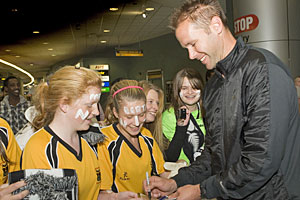 Tired, disappointed, but happy to be home. That was the message from a small contingent of All Whites players who touched down in Auckland this afternoon after their heroic performances at the FIFA World Cup in South Africa.
"It's nice to see them after 30 hours of flying," said Mark Paston, whose goalkeeping heroics were a key element in the All Whites' historic draws against Slovakia, Paraguay and defending champions Italy during group play.
The All Whites began the tournament as rank outsiders, but Paston believed his team had stamped their mark on international soccer.
"If a couple of things went our way, we would have been in the second round."
"It's good to be home," said midfielder Leo Bertos. "But we're a bit upset that we didn't go the extra step further."
Despite the All Whites walking off the world stage after a frustrating 1-1 draw with Paraguay, Paston was optimistic about the All Whites' future.
"We may not have been the most talented team in the World Cup, but we were the most unified and hardest-working," he said. "It's something New Zealand Football can build upon."
A number of All Whites, including Paston and youngster Winston Reid, are being talked about as potential prospects for deals with wealthy overseas clubs. Paston is currently signed to the Wellington Phoenix.
"I haven't really spent too much time looking (at offers)" said Paston, who plans to relax and spend time with his family before preparing for Wellington's upcoming season.
- NZHERALD STAFF