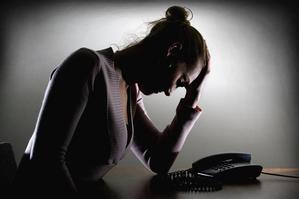 Seasonal Affective Disorder. A name created chiefly for the acronym. It could just as easily have been called Unbearably Grouchy Humans (UGH).
Or, to use the medical term, Seriously Hideous Is That Tanty Tossing Yobbo. But SAD it is, calling to mind our national mood and someone with a tendency to over-salt their food. New Zealand is on the brink of plunging into this Bitching Long And Hard territory, those hours of cabin fever compounded by the end of our "World Cup dream".
The anti-climax can be smelled nationwide. For one brief moment we abandoned the black clothing, went to our friends' houses in the middle of the night, vuvuzela'd strangers on the streets using our god-given trumpets, bonded over a round ball with people whose balls we'd have just as soon kicked a few weeks ago.
Now we return to the Gothic bosom, as bereft of conversation-starters as rugby fans. Even the moon sulked on the weekend, hiding behind the Earth's shadow in a half-arsed eclipse.
Look, it's all white! Oh. Well it was ...
It comes as no surprise that we would try our best to ward off the tetchiness. It may not be worth warding off, though.
According to Wikipedia at least, hibernation - and the low mood that often results - could be an evolutionary trait designed to lower our appetites when food is scarce. Lord knows how that works when your thighs are crying out for another piece of pizza to cushion them from those chilly stainless steel kitchen chairs.
And it may well be that it's not our lack of sunshine that could be causing us to revert to Evil Whining Witches. If we go back to the caveman theory, it could simply be that the tight clans we became accustomed to in the days of Lucy have disbanded; throw in a frosty low front and your bus driver, postie and neighbours who once would have saved you from a charging mammoth don't share that meaningful connection that might otherwise bring a smile to your dial, even in winter's miserly depths.
What will get us through these remaining dark days? Advice on how to cheer up. Not so much from the likes of John Kirwan, whose new online venture The Journal reaches out to those suffering from actual depression.
That's commendable and recommended that all New Zealanders take the self-test on www.depression.org.nz if you want to know what's causing the blues, or if you need a reminder that it's just a case of self-induced dysthymia.
I did the test and it told me I was not depressed. I was depressed by that outcome. What else could be behind the pervading melancholy? Lack of Vitamin D, said the magazine article penned by a smiling health professional that lay by my foot, which had ever so slightly ripped the woman's face off. It was more likely Grim Reality Of Sunday Syndrome kicking in.
How are you supposed to get out for sunshine in the morning when there isn't any? Why can't I use my torch as a DIY light box? Why would you go to bed earlier when you're still in it? Why should you get more exercise when it's going to give you Ridiculed Under Dog Envy? You've been watching sport all week, remember?
Perhaps it was caveman theory that led to a strangely uplifting conversation with a stranger on the bus the other day. It was dark and wet outside, he stank of beer and elbowed me in the chest as he and his pie squelched on to the chewing-gummed seat.
Flying in the face of tradition, we chatted the whole way home, not about soccer but about why he was wearing shorts in winter.
"Your legs must be cold."
"Get hard, girl."
What a good idea, I thought. And with that, the SAD disappeared.