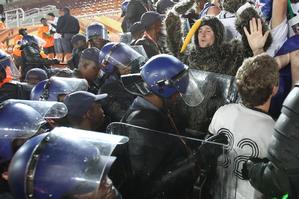 All Whites fans have accused South Africa police of being heavy-handed after they clashed following New Zealand's exit from the World Cup.
About 50 riot police with batons and shields began forcing a group of fans out of the stadium as they tried to stay behind to celebrate the All Whites' performance.
Heather Skinner, a tour leader with fan group White Noise, said the supporters were shocked by the "excessive" tactics of the police.
"They were pushing and shoving fans as they were singing and dancing," she said.
"We had stayed behind at every other stadium and showed our support, so a few of the guys were shocked that we were treated so differently here."
After the game in Polokwane, about 300km northwest of Johannesburg, players stayed on the field long after the final whistle to pay tribute to the travelling supporters.
The trouble began when All White Tommy Smith climbed a barrier to get to his mother, who was in the crowd.
"They would not let me get to my parents," said 20-year-old Smith. "I got through in the end. Had to fight a few off. It got a bit physical."
The altercation with police happened right in front of some All Whites fans and one of them said that had probably put the police on edge.
"But it was still a pretty heavy-handed way of dealing with it. We were just there to celebrate."
The players had gathered there to perform a haka to thank fans. However, defender Winston Reid said an exhausting campaign coupled with the disappointment of being knocked out stopped the players.
"We wanted to give something to the crowd but I looked at Rory [Fallon, who was in tears] and the other guys and they were pretty down."
A policeman on the pitch said officers had asked the fans to leave but they refused.