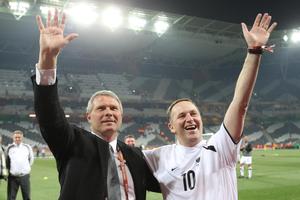 The All Whites begin arriving home on Sunday, but an official celebration could be at least a week and up to a month away.
The Prime Minister favours a parade for the team "as champions", but the Wellington City Council says the timing of players' returns and the capital's unreliable weather could delay plans.
After their triumphant unbeaten run in the World Cup, New Zealand soccer players will fly into the country's airports from Sunday in small groups with no organised reception.
Coach Ricki Herbert will not return to the country until July 2, a week from today, and some players do not have immediate returns to New Zealand planned at all.
A spokesman for the Wellington mayor's office, Stephen Matthews, said a July 23 Phoenix friendly match against Argentine club Boca Juniors might become the occasion to honour the All Whites players and Herbert.
"We have got no firm plans at the moment but we are very keen to do something," Mr Matthews said. The city council's events team was hashing out ideas with New Zealand Football, he said.
There was a strong public desire for a parade, but Wellington's unreliable July weather might make this difficult, Mr Matthews said.
Still, Wellington would be the "logical" place to honour the All Whites, he said.
Auckland Mayor John Banks also told media earlier this week that Wellington would be the appropriate place for an All Whites parade because it was the country's "football central".
Auckland would still do "something" in celebration, Mr Banks said.
Prime Minister John Key said this morning he considered holding a parade would be a good idea.
"It would be nice to see their result celebrated... they'll come back as champions," Mr Key said.
"They are a team that are going to come back to New Zealand as heroes, in my view. It was always going to be a Herculean task to get through; in the end they didn't quite make it on points but a result nevertheless that we can all be proud of."
New Zealand Football said it was still talking with the Wellington City Council to organise a celebration, but in the meantime the players would welcome fans' support as they arrived back in the country.
Among the All Whites arriving back next week (to Auckland airport at 12.50pm unless noted):
Sunday
Ivan Vicelich*
Tim Brown*
Ben Sigmund*
Monday
Tony Lochhead*
Tuesday
Mark Paston*
Leo Bertos*
David Mulligan
James Bannatyne*
Friday
Ricki Herbert (arrival time not confirmed)
* Travelling on to Wellington on a 4.30pm flight, arriving 5.30pm.