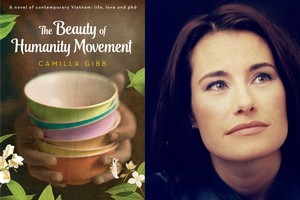 I have a new favourite author.
I could end this review right here, as those six words neatly sum up my thoughts about Camilla Gibb's fourth novel and our June feature book, The Beauty of Humanity Movement. But that wouldn't do justice to this gorgeous, poetic work.
It begins with the story of Old Man Hung, serving up the best pho in Hanoi with his signature flourish. Within pages, Gibb had transported me back to the city I visited in 2002, to the makeshift roadside stalls where I sat on a child's plastic chair, devouring deep, aromatic bowls of broth, slices of rare beef resting on a nest of noodles infused with ginger and garlic and generously topped with fresh basil, coriander and chilli.
"The history of Vietnam lies in this bowl," writes Gibb. Much of Vietnam's recent history also lies in this book. A deeply personal history told through her characters' tales of love and loss, idealism and disillusionment, loyalty and betrayal. There is the gentle and humble Hung, whose simple shantytown hut contrasts starkly with the more materialistic aspirations of the young tour guides Tu and Phuong.
Maggie, born in Vietnam but raised in America, who has returned to search for information about her long lost father, and the artists and writers who once dedicated themselves to "the beauty of humanity".
I found the story moving, thought-provoking, horrifying in parts, and utterly absorbing. It is also quite likely I learned more about contemporary Vietnamese society and the country's recent history from this book than in the month I spent there almost a decade ago.
An example: back in 2002, I frequently saw two officers in extravagant green and gold uniforms cruising the narrow streets of Old Hanoi, the lean one astride a motorcycle, the older portly one squished into the side car and bellowing into a loud hailer. "Public announcements," shrugged a Vietnamese friend, when I asked what was being said. "Pick up your trash, stand clear of motorbikes, that sort of thing."
It seemed almost comical at the time, a practical example of an over-zealous bureaucracy. But Gibb puts a more oppressive spin on the sidecar sideshow. "A voice backfires like an exhaust pipe through the loudspeaker, spluttering the names and addresses of those who have neglected to pay their garbage collection fee or renew their motorbike licence or turned 18 and failed to report for military duty."
This and other elements of the book made me ponder the experience of being a tourist. How can we ever know whether what we see and hear is authentic? Are tour guides speaking openly or presenting a sanitised, face-saving, or less complicated interpretation?
These are questions that also trouble Tu, who wonders how tourists can "possibly see anything beyond stereotypes when the tourism industry gives them war tours and movie tours and romance of Indochina tours ... taking them to a gallery where they can purchase a souvenir in the form of a three-thousand-dollar painting of a lady in ao dai riding a bicycle along a lazy river." Do the tourists even want to see the real Vietnam? he asks.
But then, what is the real Vietnam? "This is a country that erases its own history," argues Maggie. "Anything that goes against the Party ... And if people aren't being censored? They're busy hiding anyway. Desperately trying to save face."
Of course all of this assumes a high level of factual accuracy in the novel's exploration of historical events and sociological and cultural norms. But Gibb is a social anthropologist and the book has a strong sense of authenticity, all the more remarkable because she spent only four weeks in the country prior to completing the book.
Lyrical language, convincing characters, a moving storyline and so much to learn. Quite simply, I loved it. So, on the urging of Wreathy, one of our Fiction Addiction readers, I'm off to the library to reserve Gibb's previous novel, Sweetness in the Belly. Can't wait.
On Tuesday Bronwyn will wrap up the month with her review of The Conductor by Sarah Quigley. Next month's feature books are The Larnachs by Owen Marshall and Lost in Shangri La, by Mitchell Zuckoff. You can read about these books here.